Flexible working is a style of working that lets people have a personalised and flexible work pattern that's different to normal procedures. Employees may have a flexible working arrangement to accommodate different working hours, a different location, or a different amount of responsibility to their colleagues.
Time-Flexible Work: people may work reduced hours, compressed hours, staggered hours or variable hours.
Working At A Flexible Location: people may work from a different location permanently, temporarily, or some of the time with hybrid working.
Flexible Job Scope: people may reduce their responsibilities, share their workload in a job share, or change the scope of their role to part-time.
Flexible working is the human capacity to change work into something more suitable. An employee may ask for extra flexibility from their employer, or a business might ask an employee to work flexibly beyond the standard working week.
For example, people who work in tourism may work every day for a few months at a time, then take an extended rest period for a few weeks in-between contracts. Doctors, warehouse co-ordinators, and those in the emergency services, may be asked to work night shifts in exchange for an extra day off during the week.
Flexible working is not always limited to just one person doing just one job only.
Sometimes, people who want to work flexibly will create two shared positions using a job share arrangement. With job shares, two people who wish to work reduced hours can combine their positions into one full-time job.
In today's more evolved workplaces - where employers recognise your right to flexible working and hybrid working is widely available - flexible working can let employees combine various skills together into a more desirable position.
For example, an HR consultant with an interest in copywriting may work as an HR consultant for some of their days, and cross over into the marketing department for the rest of their time. A sales consultant with natural IT skills may take over some of the technological developments needed to coordinate a flexible sales team, but remain part of the core sales team for most of their time.
Asking to work flexibly can seem daunting at first, but it's important to remember that flexible working benefits employers just as much as it benefits their employees.
You can use a template to create a flexible work policy that works for everybody.
The key to flexible working is for both parties to remain flexible. Let's take a look at everything there is to know about flexible working in more detail.
What Are The Types Of Flexible Working?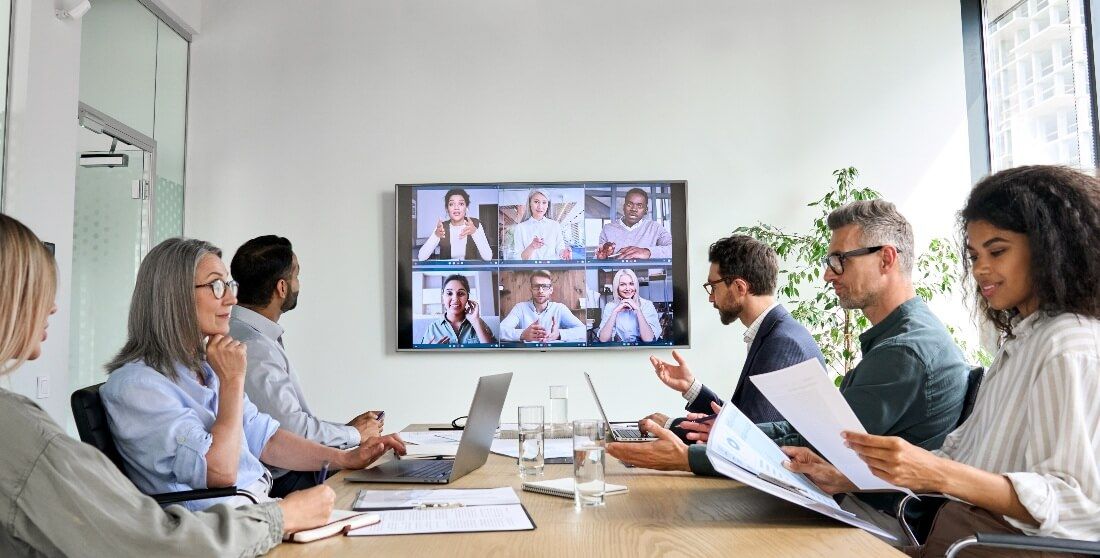 There are 8 types of flexible working. The types of flexible working are job sharing, working from home, part-time work, compressed hours, flexitime, annualised hours, staggered hours and phased retirement. The type of flexible working offered is negotiated between the employer and their individual employee.
1. Job Sharing
Job sharing is a type of flexible work where two employees share one position. The scope of each partner's position within a job share role is usually decided by the employees, who negotiate their own hours and responsibilities to suit the needs of key stakeholders.
2. Working From Home
Remote working is a style of flexible work where some or all of your work is done from home, or from an alternative location that's away from the office. Employees may work from home for some of the time with hybrid working or all of the time with remote working.
3. Part-Time Work
Part-time work is a flexible working arrangement where you work less total time than the company's normal requirements. Part-time working hours may include fewer days worked with extra days off, or shorter hours worked over the same number of days.
4. Compressed Hours
Compressed hours is a highly-productive style of flexible working that compresses a full working week into fewer hours or less days. Flexible employees on compressed hours cover the full scope of their role more quickly. The most popular way to work compressed hours is to work a 4-day week or 9-day fortnight.
5. Flexitime
People with a flexitime work arrangement work fixed days with flexible hours. Most employees on flexitime can choose their start and finish times. Some flexitime employees may need to be available during core hours each day as defined by their employer.
6. Annualised Hours
Annualised hours is an intense style of flexible working that lets people work a whole year's worth of hours over less than twelve months. People on annualised hours then take all of their holidays at once to facilitate a longer period of annual leave.
7. Staggered Hours
Staggered hours is an employer-driven style of flexible working where employees work set hours on fixed days, but have variable start and finish times. People on staggered hours may have the flexibility to choose their preferred shifts, but the choice of shifts is usually limited to what the employer needs.
8. Phased Retirement
People working a phased retirement are offered flexible working to gradually reduce the number of hours and days worked over time. Employees on phased retirement may reduce their time or responsibilities on a flexible schedule until they reach their retirement age.
To help you find the right type of flexible working for your unique situation, ask yourself these important questions:
Where would I like to do my work?

Remote working, from anywhere I choose
Working from home, in my own space
Hybrid working, from multiple pre-arranged locations
When would I prefer to work?

Flexible hours, as and when I feel like it
Flexitime, so that I can choose my own hours on fixed days
Compressed hours, so that I can work fewer days with greater productivity
Staggered hours, to give me varied shifts on different days
Annualised hours, with intense work times in exchange for extended holiday
Phased retirement, to help me ease out of work without making a clean cut
How much would I like to work?

Full-time work, done my own way
Part-time work, with more time off
Shared work, to build my career around my life
What Are The Benefits of Flexible Working?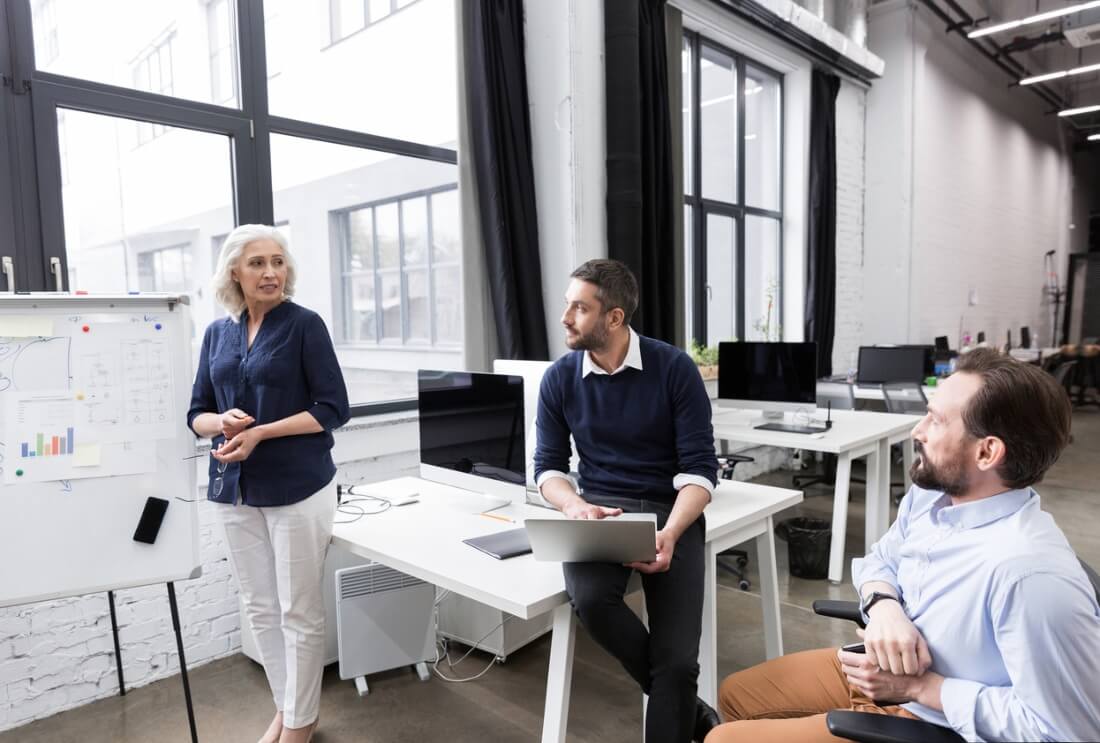 The benefits of flexible working are measurable improvements in happiness, productivity, profitability, mental health, wellbeing, and workplace satisfaction. Employees and their employers both enjoy significant benefits when flexible working is offered. Flexible working lets companies attract and retain top employees, and keeps people working at their peak performance.
Flexible working brings significant benefits to people which cannot be understated.
Enhanced Work-life Balance
In a guide to flexible working and the work-life balance, ACAS reports that a positive work-life balance is created when people are able to balance work and life around 5 key responsibilities:
Caring Duties: This can include looking after children or the elderly. People may also need to care for someone with a long-term health condition, or manage a condition of their own.
Education: People are motivated by their ability to learn and progress their skills. Education can include taking an extended time off to earn a qualification, or working flexible hours to facilitate professional development.
Religious Observances: Holidays and festivals are important to cultural values, and should be respected regardless of different beliefs or ethnicities within the workforce.
Duties & Interests Outside Of Work: People may have other responsibilities which can't always be shared with the employer, like visiting the doctor or doing city-based chores during office hours. People also benefit from being able to enjoy leisure activities during the day, like attending an afternoon fitness class or taking an art course on a week day.
Our Sense Of Wellbeing: Inherent human nature means that people often crave freedom and usually feel best when they're in control. Flexible working allows people to decide how their time is managed, which contributes towards a greater sense of overall wellbeing.
Reduced Stress
Flexible working helps people to balance their time, so they can build quality relationships and focus on life outside of work. This improves people's ability to feel balanced in stressful situations, which helps build employee resilience and has a positive impact on health and wellbeing.
The UKs leading mental health charity, Mind, says:
"Resilience is your ability to recover or adapt quickly when faced with challenges. By building resilience, you can better maintain your mental wellbeing when things get difficult... Looking after your wellbeing can help you deal with pressure. In turn, this can reduce the impact of stress on your life." UK Charity - Mind
Happy people thrive, so reducing stress with flexible working arrangements opens opportunities for people to reach their full potential.
Job Satisfaction
In an article published by the National Library Of Medicine, Tapas K. Ray, Social Scientist at the Centres for Disease Control (CDC), and Regina Pana-Cryan, Senior Scientist at the National Institute for Occupational Safety and Health (NIOSH), analyse job satisfaction in relation to flexible working.
Research shows that job satisfaction is likely to increase by 64% when employees start working from home, and 62% when a schedule is changed to suit better flexibility. The study also reports that job satisfaction is likely to double when people are able to take time off when needed.
Further research published by Sage shows that greater job satisfaction is achieved because flexible working encourages higher levels of commitment, which is steeped in the reciprocity theory that states people give to get.
In his critically-acclaimed marketing book, "Influence," world-renowned social psychologist, Robert Cialdini explores the idea that humans are hard-wired to reciprocate gifts and favours. In a popular YouTube clip, he says:
"I am obligated to give back to you the form of behaviour that you give to me... if you do me a favour, I owe you a favour... people say "yes" to people they owe." Robert Cialdini
When employers extend a flexible working arrangement to their employees, the employees in turn feel obligated to do a good job. They work with greater intent, and stay more committed to the job as a direct result of being given something that helps them succeed at life and work.
Reduced Office Space
Flexible-workspace giant, WeWork, says that that having a flexible workspace brings a double advantage. Allowing people to choose how they use their workspace as well as enabling employers to make the most of their workspace layouts to reduce floorspace.
Quiet areas, adaptable workstations, and reduced footfall created when some people work from home means that workspaces have become multifunctional to encourage free-flow collaboration.
Businesses no longer need separate rooms dedicated to purpose-driven work. People simply find a space that's right for them within the existing options, and work to suit their own preferences.
Reduced Absenteeism
In 2021, the Office for National Statistics reported that 149.3 million working days were lost to sickness or injury, and of those, 9.8% of people calling in sick cited 'mental health related to stress or depression' as their reason for absenteeism.
Based on this statistic, 146,314 mental health days were taken in 2021.
In a study conducted by CIPD it was reported that 52% of businesses are actively working to boost presenteeism, and that 46% of businesses have employees who are suffering with the effects of long covid.
According to the European Foundation for Improvement of Living and Working Conditions, flexible working reduces absenteeism by helping people to adjust to work more easily. Their study found that individuals who are unable to adjust their work to accommodate an illness or personal need are likely to call in sick.
Flexible working supports people with long-term disabilities and mental health issues. It helps people to feel more comfortable at work, and facilitates easy adjustment when work needs to fit into somebody's personal life.
This combination of positive benefits means that flexible working actively boosts presenteeism, and reduces unnecessary absenteeism.
Better Alignment Between Resources And Demand
NI Business Hub advises businesses to offer flexible working, because flexible working allows businesses to extend their hours of operation. Shifts mean that people who prefer working nights, starting early, or working weekends, can fill the graveyard shifts without effort.
The result is extended hours of service for customers, which equates to more profit for the business, and a better work-life balance for the staff.
Attractive To Talent
In an ongoing research project into the hidden costs of mental health in the workplace conducted by Deloitte, a survey found that 28% of UK employees either left their job in 2021, or they are planning to leave it in 2022, and 61% of respondents said this is due to poor mental health.
This drive towards leaving employment - coined as 'The Great Resignation' - is largely due to people spending more time thinking about what they want out of life. People are no longer happy to work 9-5, without flexibility, so the key to solving it is to condition a kinder mental wellbeing culture across the global workforce.
Tracy Brower of Forbes says:
"Empathy has always been a critical skill for leaders, but it is taking on a new level of meaning and priority. Far from a soft approach it can drive significant business results."
Her comments highlight the results of a study conducted by Catalyst, who surveyed 889 employees as part of their Leveraging Disruption for Equity Series which focuses specifically on women in the future of work.
The study found that empathy at a senior management level drives innovation, protects the intent to stay, and boosts work engagement. The results were stark.
Amongst those with a highly-empathetic senior manager, 61% reported feeling innovative at work, and 76% said they feel engaged at work. This is significantly higher than employees with a low-empathy senior manager.
Of the low-empathy management group, 32% said they feel engaged, but only 13% reported that they regularly feel innovative.
This sentiment is shared by leading management consulting company, Gallup, who believe that flexible thinking should drive the flexible workplace, because this makes people like working with you.
"Flexibility fosters self-empowerment among employees, making them feel as though they work with you, not for you." Gallup
Businesses that offer flexible working without an uphill battle are more likely to attract quality staff.
Care is a fundamental human need, so people do best when they work with empathetic managers who understand their unique flexible working requirements and take active steps to accommodate them with workplace flexibility.
Improves Diversity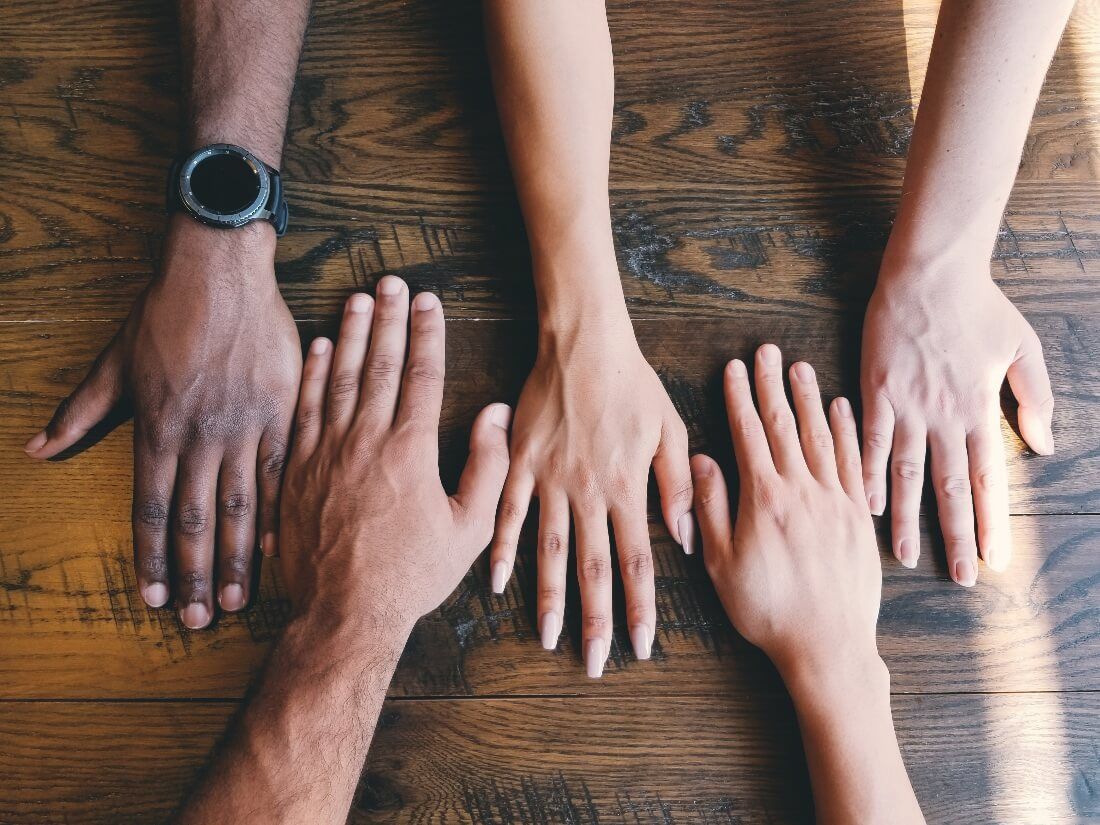 Flexible working is deeply connected to the unconscious bias, which means that workplaces often subconsciously hire people who are white, male, straight, and not affected by any clearly visible health conditions that may make them likely to underperform in somebody's incorrect assumption that workers should 'be of a certain type.'
It's estimated that improving black and ethnic minority diversity in the workplace can make a £24 million annual contribution to the economy.
Flexible working is helping to break down BME barriers, and is also opening doors for people with long-term health concerns to get better employment that lets them work around special needs.
This is largely because flexible working offered by large organisations in the public eye is breaking down the social stigma that flexible working is only for mums. As one stigma breaks, so does another, which is making people more conscious of the unconscious bias, and more likely to hire people from previously disadvantaged groups.
Remote work, adjusted hours, and the ability to take time off, means that people can manage long-term health problems alongside their work.
A lack of physical workplace requirement means flexible working can encourage companies to hire from a wider talent pool. People who are not necessarily within commuting distance can bring in new talent, which diversifies the skills within the organisation.
Closes the Gender Gap
Luke Sayers, CEO of PwC Australia and Vice Chairman for PwC Asia-Pacific makes a poignant statement about workplace equality. He says:
"On International Women's Day, as we reflect on the progress made to date (and the distance still to go) on achieving gender equality, I'd like to focus on a topic that I see as a major barrier to getting there - the lack of flexibility in many workplaces." Luke Sayers, CEO of PwC Australia
This compliments PwC's study into female millennials, which found that 85% of female millennials actively consider the DEI policies of a company before deciding to work for them.
Of the same women surveyed, 71% feel that companies often speak about diversity, equality and inclusion, but don't actually implement the policies to a high enough standard.
In response to the survey, PwC released an all-roles-flex policy, which requires managers and directors to lead by example and work flexibly. Luke Sayers continues:
"Once you achieve a culture where everyone feels empowered to ask for the flexibility they need, you remove the stigma from working mums as the only ones who need special consideration. And as more people adopt flexible work, the emphasis shifts to the quality of someone's work and what they are delivering, rather than hours at the desk. This is good not just for gender diversity, but for the health and wellbeing of all employees."
Creates Opportunity
Flexible working is helping businesses to adapt to an agile culture, which is driving globalization and opening the doors of opportunity across all industries. According to Ernst & Young:
"Life is changing all around us and the capacity to work flexibly is seen as the key to the future and a key enabler to high-performing virtual teams." Ernst & Young
Flexible employees can shape their lives into well-rounded opportunities that meet their needs. These people learn new skills, stretch their innovation abilities, and adjust themselves for greater resilience with reduced stress.
Healthier, less stressed employees who feel valued by empathetic team leaders and managers are more productive, which in turn drives expansion opportunities for the business.
Businesses that focus on DEI and globalization make a positive contribution to the community, which promotes healthier lives and lifts the overall motivation of society. At the heart of it all, flexible working promotes virtuous cycles, which pushes people to achieve more in everything they do.
What are the Disadvantages of Flexible Working?
There are a few key disadvantages to flexible working, including increased ambiguity, social isolation, loneliness, and difficulties adjusting to flexible work. Remote work doesn't work for everyone, and not all businesses find remote working arrangements beneficial.
While the advantages of flexible working have proven to be significant, people have different needs and prefer different levels of autonomy. Some flexible workers are prone to burnout. Others find it too easy to procrastinate with regular trips to the fridge.
Workers at Goldman Sachs have been told to go back to the office 5 days a week, with no flexible working offered. CEO of Goldman Sachs, David Solomon, told reporters:
"I do think for a business like ours, which is an innovative, collaborative apprenticeship culture, remote work is not ideal for us. And it's not a new normal. It's an aberration that we're going to correct as soon as possible."
Increased Ambiguity
In research conducted by Aviva it was found that 52% of UK employees feel the lines between work and life have become blurred. This trend is seen in both hybrid and flexible work. There is also increasing ambiguity in the remote employee's work experience when they work flexibly, which happens in various ways:
People don't always know when flexible remote workers are available, so they contact them outside of their agreed work hours.
Remote flexible workers are not always fully clear on the expectations they should fill, so there is ambiguity about what they should be working on each day.
The job itself can become blurred when people move into remote work or reduce their workload. Some people feel they're not doing something they should be doing, while others feel they're doing things they shouldn't be doing.
People don't always know how to switch themselves off at the end of a remote work day, so part-time work can inadvertently become full-time work, or in some cases, unplanned overtime with no real breaks.
Flexible employees don't always have clear lines of communication, and are not always kept updated. This means they often feel like they're unsure of who to speak to, and frequently miss out on important updates, even if those updates are nothing more than a casual invite to drinks after work.
Lack of Inclusion
The HR Review reports that 30.9% of UK workers who have a flexible working arrangement feel lonely, and 81% of young workers are concerned about feeling lonely in long-term remote roles. Dr Rachel Lewis, Senior Lecturer in Organisational Psychology at Birkbeck, University of London, says:
"Small talk has a social function for maintaining relationships and is the 'social glue' in organisations." Dr Rachel Lewis, Birbeck, University of London
Without natural inclusion, employees on remote or flexible schedules can feel like they're missing out on social time. They also miss on-the-job learning opportunities that happen automatically when people are surrounded by quality colleagues.
The US Centres for Disease Control and Prevention (CDC) links social isolation to premature death of all causes. Those who are socially isolated have a 32% increased risk of stroke, 29% increased risk of heart disease, and 50% increased risk of dementia.
People who suffer from loneliness are 4 times more likely to die from a pre-existing heart condition, have a 68% increased risk of hospitalisation, and are 57% more likely to visit A&E than those who are not socially isolated.
Loneliness has been directly linked to suicide, anxiety, and depression, which all contribute to the UK's £56 billion in lost annual revenue as a direct result of mental health concerns, as reported by Deloitte.
Flexible Work Is Not Always Suitable
Employers are becoming wiser to the enormous benefits of flexible working, but this doesn't mean that flexible working is always possible. Some employers may decline a request for flexible working if it will negatively affect the business operations.
Reasons why flexible employment may not be right for a business include:
High costs to implement a flexible working arrangement
Work can't easily be redistributed amongst the other members of staff
Customer demands may not be fully met
Quality of service may be affected
The requested flexibility doesn't contribute towards the business objectives
Performance may suffer as a result of fewer hours or reduced workload
It may be challenging to recruit staff to fill the gaps left in the schedule
Some employees may not be well-suited to flexible work
People who value routine, like to work closely with others, experience feelings of loneliness or social isolation, and prefer to learn from people on the job, will often benefit from having a fixed work schedule in a shared office environment.
The key is balance. Flexible working arrangements should always be tailored to suit individuals within the wider business objectives.
What Is A Job Share?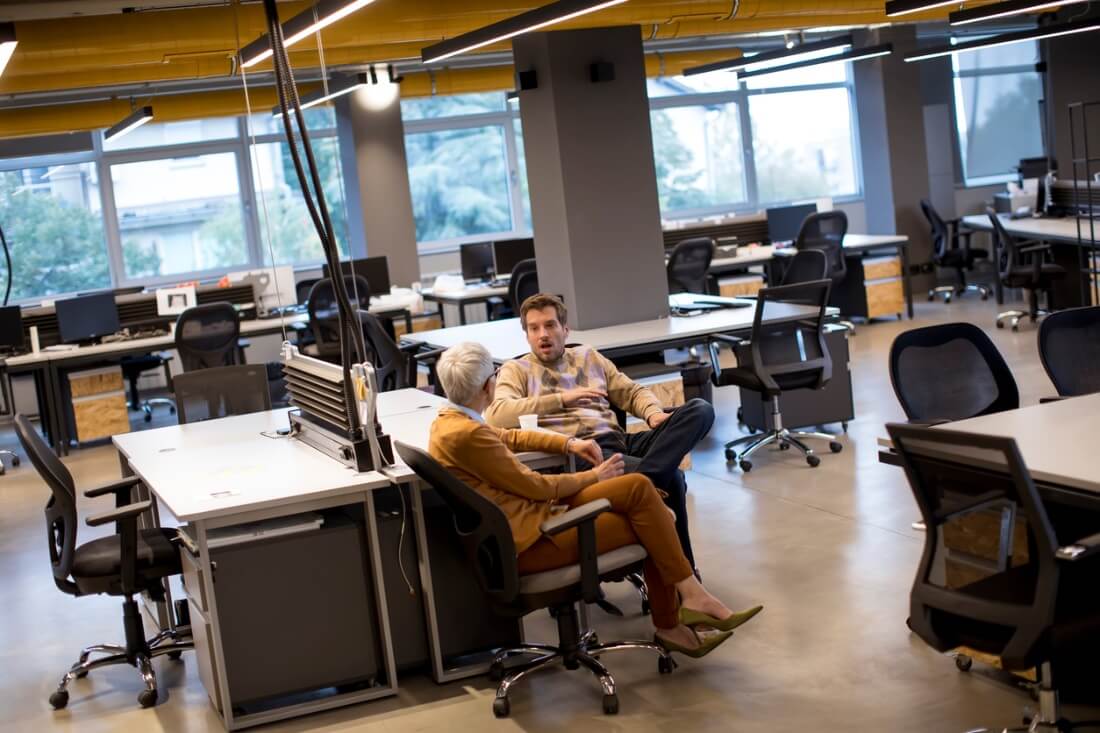 A job share is a style of working that accommodates flexible working within full-time positions, where traditional flexible working arrangements are harder to implement. A job share covers one full-time role with two part-time employees.
Job shares are different to all other types of flexible working arrangements because the job share is regarded as one position, and doesn't necessarily need to be a flexible position as the full job is covered.
Unlike other styles of flexible working, the scope of the shared job and the hours worked don't require a change. In job shares, the job itself remains the same, but the person doing the job is changed from one employee into two separate employees who share everything from their desk to their pay.
How Do Job Shares Work?
Job sharing is a unique type of flexible working that offers people flexibility instead of the traditional work flexibility that's found in other versions of flexible working.
Job share roles can be split in a few different ways to suit the job share partnership.
Job Sharing According To Skills: The job-share partners divide the role according to their individual strengths and skills. In a skills-based job share, both people have their own set of tasks to complete. Partners work on their own area of the job and don't have the same functions within their partnership.
The combined skillset of job-sharing partners is often greater than any single person doing the full job alone would be, so this style of flexible working is highly-beneficial to all stakeholders, including the customers.
Job Sharing With Set Hours: When job-share partners split their position into two sets of flexible hours, the totality of the company's standard hours is reached. The two job-share workers often create their own flexible schedules within the job's original fixed hours. Job-share partners may split their hours in one of three ways:
Split Days: one person works the mornings, while the other person works the afternoons.
Split Weeks: one person works on some of the days, while the other works the remaining days.
Split Cycles: one person works all of the days for a full week, month or season, while the other has an extended time away. The partners then switch for a week, month or season so the other person can take their extended time off. This is particularly effective if one of the partners has kids in school, because they can arrange to take the school holidays off in exchange for longer hours worked when their kids are back at school.
Both partners in a time-sharing position will work on the same tasks. They come to work for their portion of the hours needed, and each does the work that's needs to be done at that time. In this kind of job-sharing arrangement, both partners will usually have the same responsibilities, and they usually cross over into each other's work to take up the reins when they hand over.
Job Sharing According To Responsibilities: Job share partners divide the job according to responsibility based on who is accountable for which parts of the job. For example, one job-share partner may look after the staff appraisals, and the other may look after the weekly logistics like tracking days off, etc. How the responsibilities are divided is unique to each job-share partnership.
When job-share partners split their position by responsibility, they may sometimes work together at the same time, thereby compressing the full scope of the original position into less time that's then also divided by two people.
This creates a job-sharing that is simultaneously work-flexible, and people-flexible, to get the best of both worlds.
Crucially, all job shares work by establishing clear lines of communication that facilitate smooth handovers.
Regardless of the type of role, the industry worked in, or the level of position held by the job-sharing team, it's essential to keep key stakeholders informed with constructive communication that flows in both directions.
Key stakeholders in job-share roles include:
The Job Share Partners
Each person needs to know what they're directly accountable for, and when they're expected to be available. Job-share partners should establish their boundaries in writing at the start of the partnership, and review these from time to time to ensure that the partnership is reaching its full potential.
Every job-share team is different, so those in job shares should come up with a system for communication. This might be a book for notes, a shared Google document, email chains that gets updated, or an Excel Spreadsheet to manage projects. People need to know what happened while they were off, and what needs to be done when they come back to work.
Job sharers should have a system for dealing with emergencies and out-of-hours response times. Each partner must know when the other is not available, and how to reach them when appropriate.
Direct Managers
Line managers need to know what to expect from job share partners, so they can correctly manage and appraise them. Job-share teams should be clear with management about who works when, and who does what so that managers can measure their performance and not grow frustrated when they can't find the right person to speak to.
Some managers may give performance reviews to the partners as a team, while other managers may prefer to evaluate each person independently. This needs to be established in writing at the start of the job share arrangement so that everybody is clear on what's expected of them.
Co-workers
Colleagues of the job sharers may feel they don't always understand the situation, which can cause issues in the team if the team is not kept properly informed.
Job-share partners should always have their expected days and hours available to co-workers so that people know who is available on which days. This is particularly important if the role has been divided by responsibility because co-workers need to be able to reach the right person for certain tasks.
Co-workers also need to know who to contact in an emergency, as well as what actually constitutes an emergency. This information should be kept in writing, in a safe place where staff can find it quickly when needed.
The key is to keep people informed. Let them know how the job share arrangement works. Answer all of their questions, and always be willing to share information freely with others.
Employees Managed by Job-Share Partners
Those working in teams managed by a job-share partnership need to know what's expected of them, who they should report to, and how they will be appraised.
People work best when they feel comfortable and confident, so job-sharing managers should set clear lines in the sand. Let people know who looks after which parts of the management process, who they can speak to, and how the job-share schedule looks.
It doesn't matter if a job-share team manages people together or splits the managerial responsibilities into clear areas. What matters is that people know who is looking after them, and who they should turn to when they need support.
Executive Directors & Investors
Investors and the Board of Directors don't always have direct contact with members of staff, so some job sharing roles may come under scrutiny if key decision-makers don't fully understand why the job needs to be shared.
The onus is on the job-sharing partners to highlight the benefits of the shared arrangement to the people who make decisions about staffing.
Let them know how the job-sharing role brings additional skills, improves productivity, extends the hours of availability, keeps people motivated, and retains talented staff.
If people understand why the job share position is a good idea, then they will likely buy into it and support the partnership for lasting success.
Suppliers
Quality relationships with suppliers makes everything easier for everybody, particularly in the industries that operate a short lead time, such as fresh food supplies or the shipping industries.
Suppliers need to know who to contact, who to invoice, who to liaise with when problems arise, and who to sell their new products to.
Clients
Most importantly, clients of job sharers need to know who is looking after them.
Some job-share teams share clients, in which case the clients need to know who will be available on which days. Other job-share teams look after their own clients, so these clients need to know which days their consultant will be at work.
How the job share arrangement is communicated to clients depends on the sensitivity of the client relationship. Some job-share partners are open and upfront with every client, others stay in their lanes and only deal with their own clients.
Co-workers and managers need to know what's acceptable when speaking to clients about the job share situation. This information should be in writing, in a place that's readily available to all members of staff.
How Do I Get A Job Share Role?
In the UK, you're entitled to ask for a flexible work arrangement if you've been with your employer for at least 26 weeks, so often the best way to get a job share role is to ask if you can split your current role into a shared role.
Employers have up to 3 months to make their decision, and if they agree, then you will need a fresh contract of employment. If they disagree, you may appeal the decision at the employment tribunal or look for a job share role with a new company elsewhere.
Some people like to find a job-share partner first, then apply for a new role together as a unit. This process is nearly always recommended, particularly if the employer has advertised for one person to fill a full-time position.
There are a few reasons why a new or existing employer may refuse your request for flexible working, so if you're trying to get a job share position you should always think carefully about how to pitch the job share arrangement to the specific hiring manager who will make the final decision.
Think about the objections, then reposition these objections as your key USPs:
Employers may worry about extra costs, so show how your job share arrangement will boost profitability.
Businesses may be concerned about how your rearranged workload will affect other members of staff, so show your clear communication plan to ease their worries.
Managers may wonder if your performance will decline if you're only doing half the work. Show how your combined skills will drive each other forwards to grow in your individual performances.
The business may be planning a future restructuring. Highlight how your job share can position the company as an attractive business that retains talented staff.
The secret to getting a quality job share role is to find the right job-share partner, so that you can create a shared position that works for you. Once you've got the right system in place, then key stakeholder management within the job share role will help people understand why allowing the job share will improve the overall success of the business.
All job share positions should be built on trust, so that both parties can optimise their performance and make the job-sharing partnership stronger than the sum of the two individuals in the team.
Don't be afraid to apply for the job you really want as a team. If you communicate clearly and show how your job share arrangement is a positive force for good, then getting a job share is achievable with many employers offering them as an option on full-time roles.
How Would Flexible Working Or A Job Share Help Me?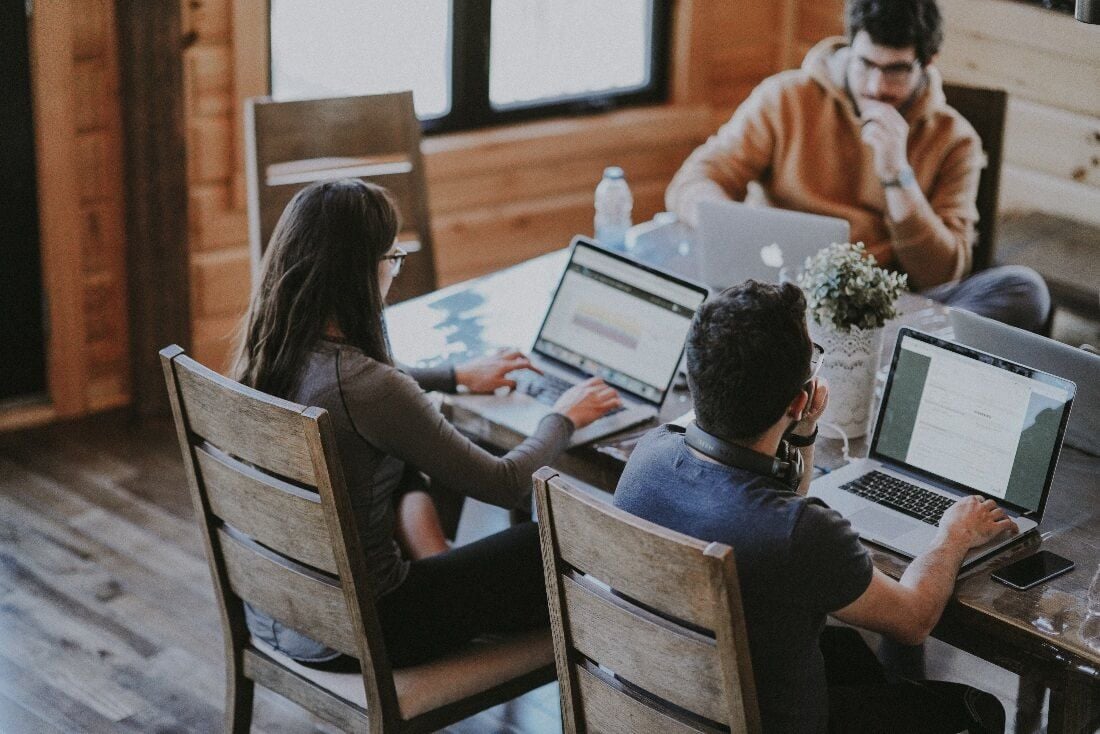 Flexible working and job shares have similar benefits. Both job shares and flexible employment models are changing the narrative about how we should live and work in balance. Job shares and flexible work patterns can help you progress your career, free your personal time, promote good health, and create a better work-life balance.
Previously, flexible work was largely reserved for mums needing to work around childcare, and this type of flexible work has historically always been a negotiation.
Today, most of the working world recognises that people want to feel well at work. This is leading global change towards creating a new normal where flexible working is expected in all industries, at all levels of the organisation.
Job shares and flexible work can help you to:
Transfer your skills into more dynamic roles
Progress your career without compromising on your position or reducing your level of responsibility
Restrict your office hours to something more suitable
Work in a place that makes it more comfortable to manage a long-term health condition
Take up employment with an organisation that's beyond an easy commuting distance away from home
Learn from someone who compliments your skills in a high-performing job-share team
Final Words
Flexible working is the key to solving some of the greatest challenges of our time.
When implemented correctly, flexible work arrangements aid green living and greater sustainability. Flexible working improves physical and mental health, brings positive economic growth, and challenges long-standing narratives throughout society.
Flexible working is closing the gender gap. It's reducing the unconscious bias to improve diversity, equality and inclusion in the workplace, and it's facilitating employment for those who were previously considered unfit to work.
Most of all, flexible working is driving positive change in the wellness culture. It encourages managers to lead with empathy, and employees to work productively.
While flexible working is not always right for everybody, and does not always suit every business, the narrative is moving towards a healthier future, where flexible working keeps people happy, healthy, and productive.
About Author
Graham Joyce is co-founder of DuoMe, a flexible working advocate and a frequent panellist/commentator on the issues of flexibility or hybrid working.