A recent survey commissioned by Women in Banking & Finance (WIBF) of 1700 employees working in the financial services sector has revealed shifting perceptions surrounding gender equality and flexible working.
In the study, conducted by the financial services consumer insight and engagement specialist, The Wisdom Council and The London School of Economics & Political Science (LSE) found that 94% of men and 93% of women who are currently employed in the financial services sector believe location-based flexible working arrangements would not negatively impact their performance.
Are we entering into a new era of flexible working being a dominant and accepted workstyle for the masses?
Vivienne Artiz, President of WIBF says:
"Thought leadership is an essential and critical element to driving the vision for members of Women in Banking & Finance. It is therefore with great pleasure that we have launched the Accelerating Change Together Research Programme, and are able to share these inaugural survey findings. The survey findings deliver ground breaking and cutting edge data and perspective from across the sector, reflecting the responses of women and men during the current extraordinary circumstances of a sector tackling the challenges of Covid-19"Vivienne Artiz, President of WIBF
Flexible Working is No Longer Just for Women with Children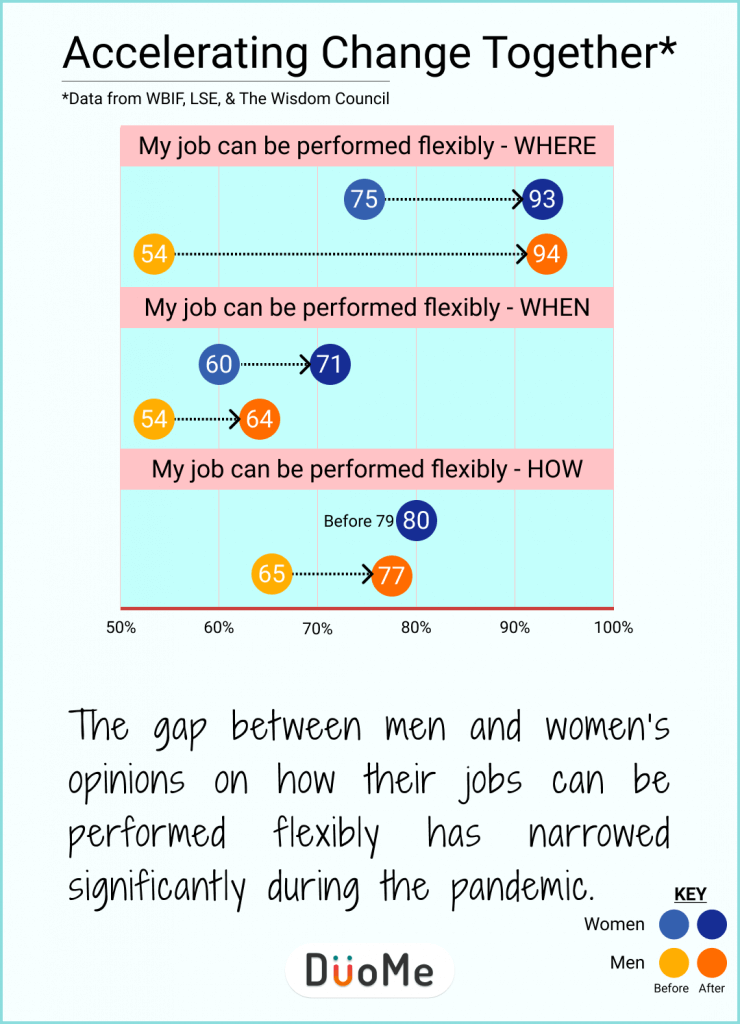 The now marginal differences in the results between men and women illustrate how both genders now view flexible working as a viable option for their job. And the gains were not just for location-based flexibility; all flexible working models have seen significant increases, particularly for men. If there can be such a thing as a positive legacy in the post covid era, this may possibly be it.
When past employees who were employed in the financial sector pre-pandemic were asked the same question, their results showed just 54% of men felt flexible working would have no effect on their performance, compared to 74% of women.
The contrast in results amongst those who are currently employed in the financial services sector and the past employees shows us that men have become more open to the benefits of flexible working in a classically male-dominated industry.
Could this be the beginning to the end of the Flexibility Bias where flexible workers are perceived as being less committed? It's early days but these survey results are very promising given the performance-driven culture in many financial services firms.
Women are Just as Ambitious as Men
The survey assessed men and women on their level of ambition and their perceived barriers to career progression.
It was found that men and women share equal ambition, with no difference between genders noted. Men and women may be the same when it comes to ambition; however, 79% of women revealed they perceive barriers to their career progression, compared to just 58% of men.
Additionally, only 53% of women were confident they would achieve their aspirations versus 70% for men.
The survey goes on to suggest that due to differences in confidence across sectors, the lack of confidence amongst women cannot be fully explained away as an inherent gender issue. This could be highly informative to organisations thinking about how to address gender equality issues in the workplace further. A broader range of initiatives may be required.
How Might We…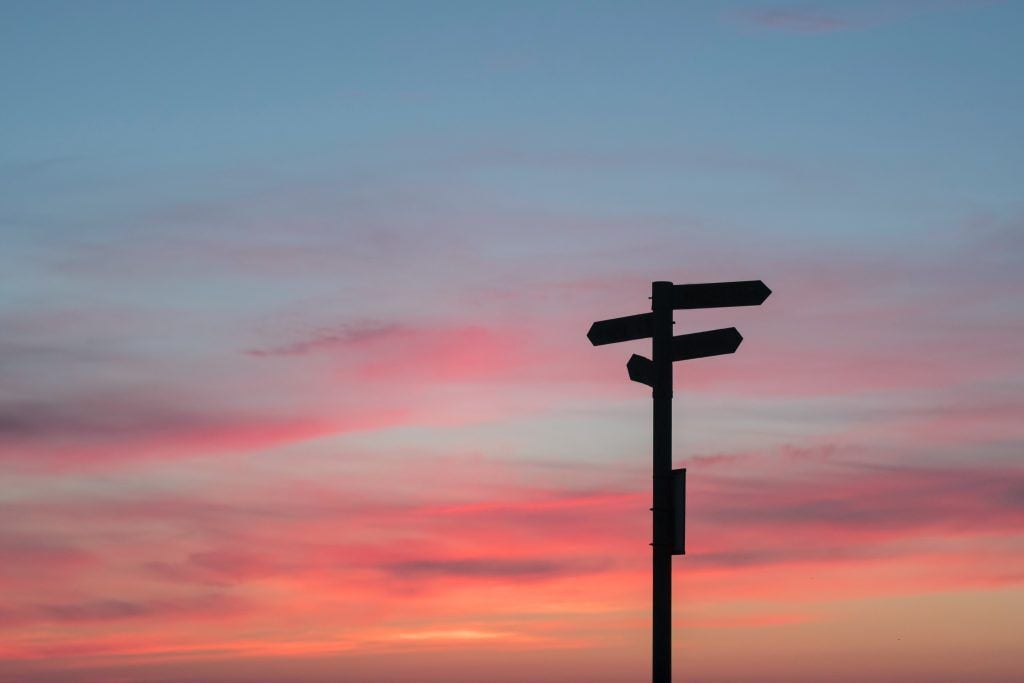 Reflecting on the report, I can't help but think this provides such an amazing set of statements to get companies thinking about how we might start to do something different:
The gap between men and women's opinions on how their jobs can be performed flexibly has narrowed significantly during the pandemic.
Men who have worked flexibly through the pandemic are now far more likely to accept flexibility than previously.
Genders are now equal in their belief that flexible working won't negatively affect their performance.
Ambition is universal. There are no gender-specific differences in the aspirations of career-driven employees.
The Pandemic has Highlighted the Opportunity for Real Change
Flexible working brought on by the pandemic is causing a positive shift in the long-standing attitudes towards presenteeism and workplace equality. The vast majority of people of all genders not only think they can perform their job flexibly but actively want to work flexibly.
Many companies have been forced to re-evaluate the role presenteeism plays in productivity, and are now starting to understand that presenteeism doesn't always equate to value. Flexible working improves productivity, which increases employee value.
What we need to see now is companies really starting to redesign how their employees work to recognise location flexibility on a par with being present in the office. And possibly, even more importantly, that office and remote hours are different, working remotely tied to the same notion of the 9-5 is deeply flawed. The companies that understand this and evolve their corporate culture to accept and champion this will have a distinct advantage in terms of the productivity and equality of their workforce.
It's great to see some data on how 2020 has reshaped the agenda for flexible working, and that significant organisations like WIBF are using this to reshape their approach to gender equality in the workplace. We welcome the Accelerating Change Programme and hope this is one of a number of organisations to publically champion the opportunity to change.
Men and Women Share More Similarities than Differences
Flexible working nearly always has a positive effect on employees.
Regardless of gender, flexibility creates happier, more willing employees who are more productive, better equipped to balance work with life and highly motivated to progress their careers.
A better balance of flexible working for both sexes will reduce the belief that flexible workers are not ambitious, and change the perception that presenteeism equates to value.
These paradigm shifts lead to a reduction in the issues surrounding gender equality to reduce perceived career barriers and will open more opportunities for flexible working to employees of all genders who desire a successful career alongside a balanced lifestyle.
Dr Grace Lordan, Associate Professor in Behavioural Science, London School of Economics and Political Science says:
"A silver lining of the pandemic is that it has directly caused a re-organisation of work which can benefit women. Right now, women who avail of flexible working often suffer the knock-on effects that they are considered less career focused. The idea that flexible working can be productivity enhancing for the firm is often lost. If we get the re-organisation of work right, the new status quo might move us away from a false narrative that presenteeism equals added value, to the benefit of women's progression and retention."Dr Grace Lordan