Job sharing is an increasingly common flexible working option that's changing social attitudes. Job satisfaction is high, productivity is optimised, careers progress, and the majority of people working closely with job sharing teams report job sharers to have a positive impact on their workplace environment.
It is the nature of job sharing roles that people, by and large, have a high level of personal investment in the success of the job share team.
After all, job share roles are proving an essential point in the evolution of flexible working attitudes and better workplace equality. When people are allowed to control their work experience, they perform better and lead happier, healthier lives.
To be successful, job share partnerships need to manage key stakeholders with deliberate, structured communication. If stakeholders find communication with a job share difficult, no matter how sound the output or result is, perceptions of negative performance may be formed.
What is the Objective of Deliberate Stakeholder Management in Job Sharing?
A goal of every job share team is to persuade, influence, and inspire key stakeholders to believe the benefits of the job sharing arrangement have a measurable, positive impact that supports their interests. This is achieved by assessing the opinions, motivations and attitudes of key stakeholders to inform the communication approach using open, clear, two-way channels.
In deliberate stakeholder management, the interests of each stakeholder inform the structure and management of the job share role. This ensures that key stakeholders with a vested interest in the job share team enjoy a consistent, well thought out, positive experience.
Who Are the Key Stakeholders in Job Share Roles?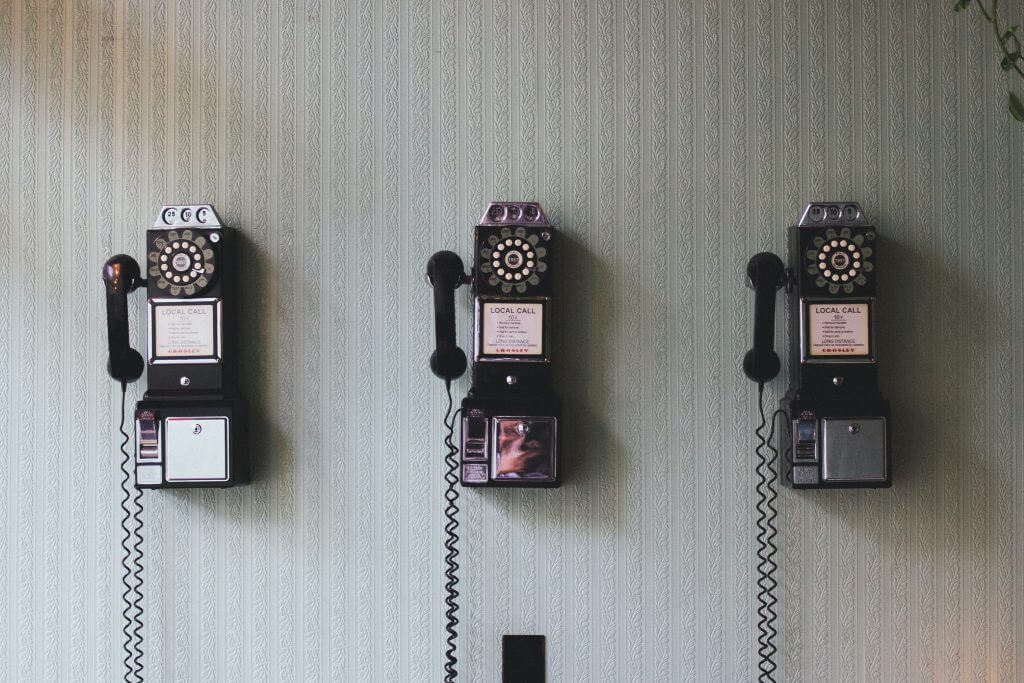 Key stakeholders include any person or group with direct interest or involvement in the job share role. Each stakeholder has unique objectives that should be considered when planning how best to communicate:
Team Members Managed by a Job Share
Arguably, people don't work for companies, they work for their managers. Employees who report to job sharing managers rest their job satisfaction and career opportunities on the ability of their management to lead them to success.
Employees who work for a well-oiled job sharing management team have every chance to perform well, which in turn creates a positive work environment that's geared towards learning, ambition and self-development.
Job sharing team leads may choose specific employees to manage or equally share each team member. No matter which approach is chosen, ensuring the job share is aligned on how the team should run, and there is the consistency of decision making across the job share is critical to effective communication. Team members receiving different, possibly conflicting, direction will begin to second guess intent, and it will require more communication to resolve. Get aligned, be exact, and communicate consistently with the team to be effective.
Colleagues
Those who work alongside job sharing teams in an equal capacity generally look to keep their working relationship with the job share partnership as uncomplicated as possible.
Colleagues become frustrated when they can't find the answers they need, don't know who to contact within the job share partnership, or feel passed from one person to the next.
Job share teams should let colleagues know what to expect, who to contact when, and how to deal with incoming questions relating to the job share role.
Managers & Supervisors
Managers and supervisors are judged on the success of their teams, making the people they manage almost always their most important asset. If the job share team has poor performance or doesn't deliver the results anticipated, the manager's performance is also affected, reducing evaluations and opportunities to progress.
Having an agreed way to communicate, feedback, and respond to requests of the job shares manager is critical. Deciding how communication should work needs to be one of the first stakeholder strategies put in place.
B2B Relationships
Relationships between two companies are built on trust, credibility and the ability to deliver. When suppliers feel businesses are unresponsive, untrustworthy or lacking in credibility, it always leads to issues in the relationship.
Job share partners who demonstrate efficiency with a clear and consistent communication approach are beneficial. The role is staffed full-time, so should be as responsive as any other, and the reduced workdays tend to see a fully energised performance across all days of the week.
Again, an agreed way to communicate and feedback is critical for B2B stakeholders. Tell them why a job share will benefit them, how to engage you, and that it's better to feedback if communication is an issue so it can be fixed before it escalates into a sustained problem.
Clients
Clients wish to work with companies that add value and deliver on their promises. If clients understand the job share arrangement can significantly improve the level of service and continuity they receive.
Clients should be informed on the availability and how best to contact the job share team to minimise disruption and to keep clients happy. Ideally, client's should not need to know the job share schedule, they should just be able to reach out and receive service.
Interestingly, roles which interface with clients are sometimes flagged as not appropriate for job shares because of the need to build relationships. Almost always, ask a client if they're concerned their contact point is a job share and the answer is a resounding 'no'.
Clients are usually fine with job shares. The issue tends to be a perceived one within the company the job sharers work. Showing how you plan to communicate effectively with deliberate stakeholder management is a practical way to reduce this bias.
Not all Stakeholders are Created Equal
Being deliberate means you take specific actions to make sure you are communicating effectively and appropriately with your stakeholders. The amount of contact and the way you communicate should vary based on the particular stakeholder. One way to do this is to use a stakeholder matrix to classify stakeholders into different groups.
The Mendelow Matrix is a simple way to think through how to work with your stakeholders, focused on the stakeholder importance (or power) vs their level of interest in what you do.
High Importance & High Interest – Manage Closely – These stakeholders are the most important to communicate with and will warrant regular meetings or comms to keep them engaged and informed. Ensure they understand how to contact the job share and what they should do if they feel communication is difficult. After all, you can't manage what you don't know, so being told communication needs to improve is the first step towards correcting it.
High Importance & Low Interest – Keep Satisfied – These stakeholders carry weight but are not interested or directly impacted by the job share role. These stakeholders don't necessarily need regular communication but do need to know how to get in touch if they have questions or concerns. Being responsive to this group is critical.
Low Importance & High Interest – Keep Informed – These stakeholders should be kept informed but in a lower effort fashion. This may mean adding them to an update email or checking in with them from time to time, but probably not through a standing agreed to meeting.
Low Importance & Low Interest – Monitor – A hands-off approach is kept with these stakeholders, with minimal interaction. Networking with them may be of benefit, but comms are not required unless their position changes which is why you monitor them to see if they change.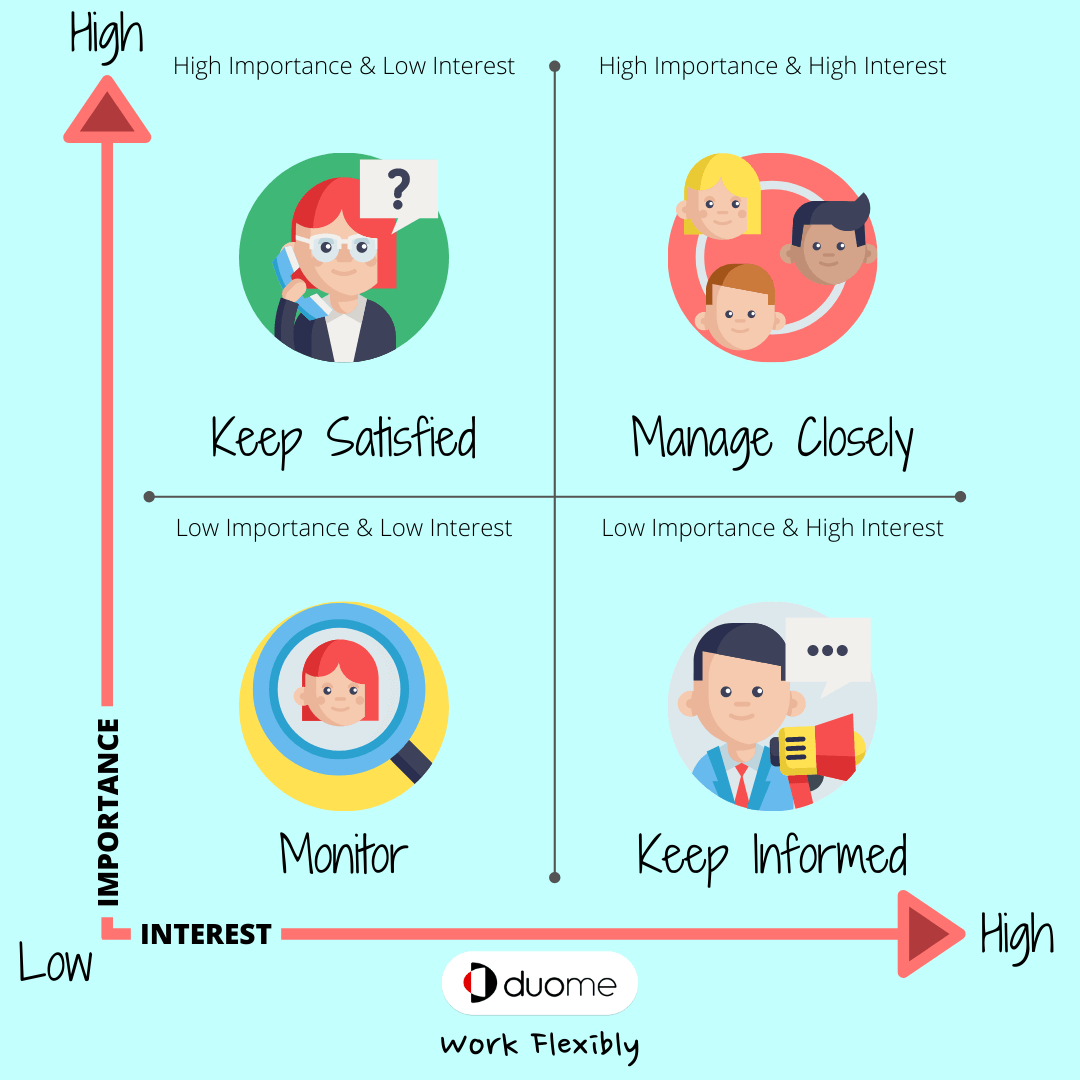 Strategies for Stakeholder Management in a Job Share
When establishing a job share partnership, it's necessary to define and outline clear strategies for dealing with each stakeholder in a specific way.
Communication strategies help maintain good relationships with all stakeholders by giving the right information to the right people. This limits any frustrations that may arise.
This 8-step process can guide job share partners to create a deliberate stakeholder management policy:
Define clear objectives for the relationship with each stakeholder or group of stakeholders.
Outline the nature of the job share role to each stakeholder as necessary, while keeping within the job share partnership's agreed plan.
Communicate the relevant benefits of the job share arrangement to all stakeholders.
Determine key responsibilities within your job share team and state accountability.
Keep contact information simple for stakeholders, establishing the first point of contact, usually a joint email, and relevant escalation process for each anticipated scenario.
Be clear about availability, and always do what you say you will.
Seek regular feedback on how communication is working.
Adapt the job share arrangement as needed, as informed by stakeholder feedback.
The Key to Deliberate Stakeholder Management in Job Share Roles is Communication
Having a detailed communication strategy is imperative for job share positions. If all parties know what to expect, job share roles provide exceptional value to all stakeholders.
Successful job sharers who evolve with their role actively seek and respond to stakeholder feedback, and communicate their benefits. This enables the job share to persuade, motivate, and inspire others to support their job share arrangement with a positive work experience.
Frequently Asked Questions
What is stakeholder management?
Stakeholder management is the process of improving relations with the individuals or groups (stakeholders) that have the most impact on your role. Identifying, planning, communicating, and improving are all steps that can be analysed to improve the effectiveness of your communication.
Why is stakeholder management important in a job share?
Job shares have additional complexity when it comes to communication due to having two people working in the same role. Deliberate, structured, and aligned stakeholder management reduces this complexity in a job share by ensuring communication is performed consistently.
Why should I consider a job share?
Job shares have many benefits, but the primary rationale to consider one is if you are looking to work part-time hours whilst continuing your existing career. Not all job can be performed part-time, so job share provides a way for the role to be staffed full-time just with two part-time people.

There is additional evidence that part-time roles are promoted less frequently than full-time, making job share an excellent choice for career-minded individuals. With the position staffed full-time, it overcomes managers biases around commitment, and there are numerous examples of job shares getting promoted.