Unquestionably, the way we work is changing at a rapid pace. Almost all businesses made significant adjustments within the workplace this year. As a result, Flexible Working has become a new normal for many. Flexible Working means more than just working remotely though; it's any change to the location, time, and amount you work, which is different from your company's standard.
The focus right now is on Remote Working but flexible hours or flexitime has seen an increase in use by companies. Letting their employees control their hours allows them to balance more life around work by having better control over their schedule.
The benefits surrounding Flexible Working is mostly viewed in terms of improving the lives of employees, but Flexible Working offers plenty of positive changes for employers as well. That's why many employers are now embracing these changes to impact their business performance positively.
If you are asking your employer or applying for a flexible working position, use these benefits to sell your case.
Flexible Working Benefits for Employees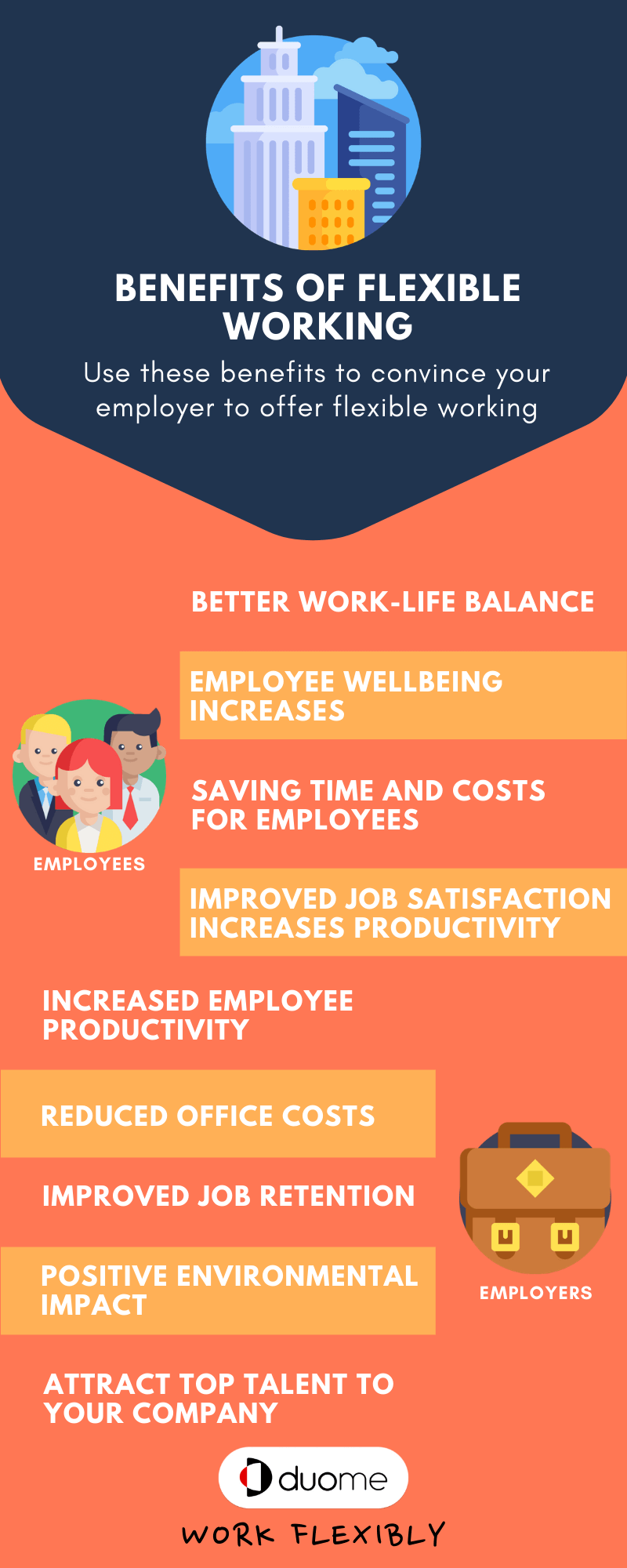 A Better Work-Life Balance
One of the most valuable benefits to Flexible Working is improved work-life balance. Employees can save time by reducing their commute or working the hours that suit them, rather than fitting around the office 9 to 5. This flexibility allows them to spend more time with family and friends or prioritising activities important to them which they find fulfilling like exercise. When employees feel fulfilled due to improved work-life balance, wellbeing is further enhanced.
Employee Wellbeing Increases
Employee wellbeing is one of the most important considerations regarding modern workplace culture. Due to recent events, the correlation between Flexible Working and improved wellbeing is a massively hot topic, but the evidence has been around for a while. This Flexible Working Survey aimed to look at this correlation in 2019. It found very compelling results in favour of Flexible Working with 39% of respondents stating their mental health improved after making the switch from traditional office working. This shows just how much Flexible Working can benefit employee wellbeing.
Saving Time and Costs for Employees
If employees don't have to commute to the office, they can cut down on the costs associated with doing so. Commuting and transport can cost a considerable amount each year, and the fees really do add up. A 2019 study by Lloyds Bank found that UK employees spend 492 days of their lives travelling to and from work! Add to this an average price tag of around £800 each year, small changes to the amount we commute has a significant impact. As money and time are saved from not having to commute, employees can do a great deal more in their personal lives. They're also likely to feel more engaged with tasks when they're at work, putting more effort into their roles.
Improved Job Satisfaction Increases Productivity
When employees have greater control over when, where and how long they work, they report being more satisfied with their job. As an added benefit, productivity also increases when we have the freedom to work on our terms. In this study from Royal Canada Life, 77% of flexible workers felt their productivity was increased as a result of flexibility. Employees often see performance improvement as they become more productive, which boost their sense of worth in the workplace.
Employees and employers are overcoming the idea that a single way of working, predominantly in the office, is the only work pattern. This is an excellent chance for working culture to change for the better long-term. Being able to sell the benefits to your employer may help you to get access to the Flexible Working you want.
Flexible Working Benefits for Employers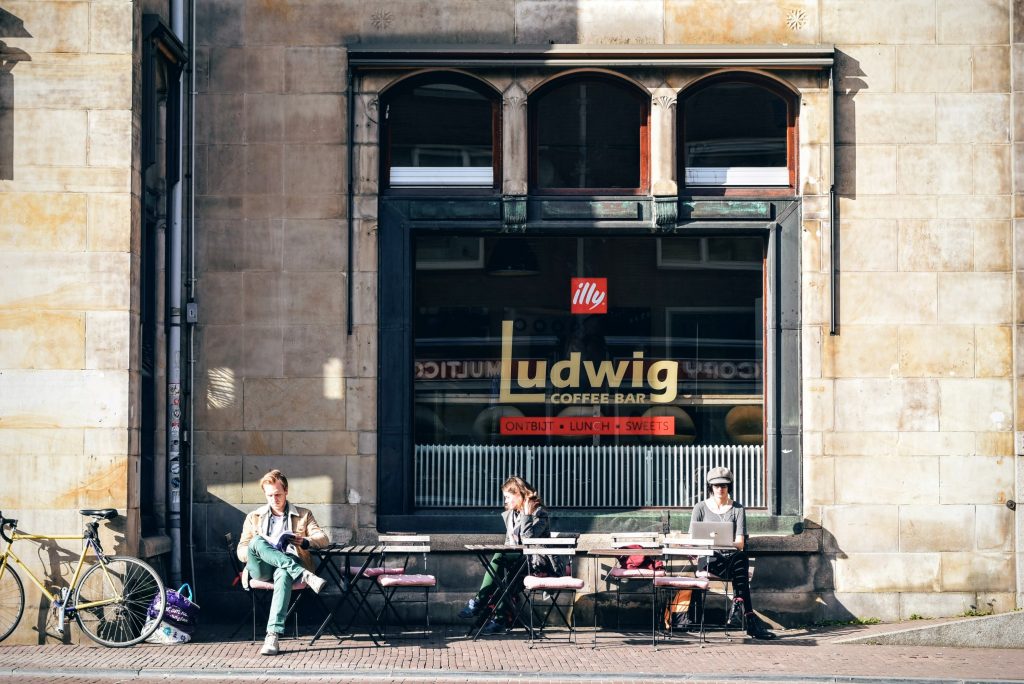 Increased Employee Productivity
One of the most notable benefits of Flexible Working is increased employee productivity. Employees thrive with freedom, as they're trusted to undertake tasks on their terms. This leads to a greater sense of responsibility, too. One study examined employee attitudes to productivity at work with 9 in 10 employees reporting how Flexible Working encourages productivity more than money does! This demonstrates just how strongly employees appreciate Flexible Working.
Being more productive means getting more done or performing better, and it can lead to significant progress for businesses and peoples careers. When employees are productive, creativity is enhanced, and outcomes often become more successful. Rob Vivian, the MD of Pure Comms, supports this viewpoint too. In an interview, he stated:
"People then want to be here and are inspired to work to get the job done. If you trust and empower your staff, then people will want to go above and beyond to help the company."Rob Vivian, MD of Pure Comms,
Reduced Office Costs
Encouraging Flexible Working will mean more people working from home for parts of the week. Office workspaces can shrink based on this lower occupancy. Given the size of office costs on companies balance sheets, reducing office spaces by just a fraction can eliminate millions in costs. Global company BT stated they save over £100 million each year by embracing Flexible Working. Having fewer people in the office at any given time also doesn't mean your ability to support customers is impacted. During lockdown from COVID-19, many UK based call centres switched to working remotely. The opportunity to reduce costs means you can invest in how to change your company's working culture, whether that's new tools to support remote workers or providing better equipment for their home.
Improved Job Retention
Flexible Working has a significant impact on employee satisfaction and wellbeing. As employee happiness rises, so does employee loyalty and tenure with the firm. This improved retention has the added benefit of reducing recruitment costs.
Companies invest significantly in their workforce, so avoid losing critical skills by reducing how often employees leave. Workplace attrition is costly with Oxford Economics estimating an average financial impact of £30,000 when accounting for recruitment and lost productivity as employees get up to speed and fully productive. So, your efforts are best spent in retaining the current talented minds you already have! You can do this by incorporating Flexible Working into your workforce strategy.
Positive Environmental Impact
With Flexible Working, there's less commuting to and from the office. This leads to a considerable reduction in the carbon footprint of your business. Transport accounts for 21% of carbon emissions in the UK being the single biggest category of emissions, above that of electricity production and agriculture. For sustainably-minded companies, this is a significant opportunity to lower your carbon footprint.
Consumers want sustainably motivated products and the companies that produce them. A study by Neilson found that brands with legitimate sustainability claims, including environmental impact, do better. Companies should all be focusing on how they can reduce their impact on the environment as their consumers are demanding it.
Attract Top Talent to Your Company
Flexible Working offers many lifestyle bonuses that other methods of working do not. New graduates are those with the most potential with regards to innovative thinking. It's not surprising that they're also the candidates demanding Flexible Working roles! One study by Vistage asked UK business leaders about attitudes to Flexible Working. 73% understood that without Flexible Working, they missed out on more talented candidates.
Frequently Asked Questions
Q: What are the types of flexible working?
There are lots of different type of flexible working:
I Want Control Over
Type of Flexible Working
Where I work

Remote Working

Working from Home

Distributed Working

When I work

Flexible Hours

Flexitime

Compressed Hours

Staggered Hours

Term-time Hours

Annualised Hours

How much I work
What are the disadvantages of flexible working?
Flexible working requires managers to trust their employees to get the job done, in this survey 25% of flexible workers felt their manager viewed it as a negative. Also, some people report working longer hours to show their commitment to their employer. For remote workers, isolation from colleagues and blurring of home and work are concerns.
Is flexible working good or bad?
Flexible working is generally thought of as a positive for both employee and employer. The work-life balance and accompanying well-being tend to lead to happier, more productive workers. Not all workplaces are the same though, some of the benefits can depend upon your workplace culture and manager.
How does flexible working work?
Flexible working enables employees to control where, when, and how much they work usually within a framework defined by your company. There are lots of variations of flexibility that work in a slightly different way but the general theme around employer trust of employees to get the job done on their terms is consistent across all variations.
In Summary
Flexible Working offers a range of benefits for both employees and employers. It allows employees to lead more fulfilling lives, enhancing their work-life balance. This leads to greater productivity and engagement with work-related tasks. In turn, this has good opportunities for business growth. As fewer people are in the office, business overheads can be reduced so that you can invest more in other areas. Flexible Working can help recruit new talent, which will help your company move from strength to strength.