The global pandemic forced businesses to lock their doors and send employees home to quarantine, introducing employees and employers to remote work. While this was a requirement, now, most businesses want employees to return to the office to run the company's day-to-day activities.
With the successful rollout of the vaccine program, "the perfect date to bring workers back" became a heated debate amongst business owners. Many big brands began to proudly announce the date they planned to return to the office.
However, wave after wave, variant after variant, soon proved that COVID-19 was beyond the control of even the best CEO. And, with workers getting more and more used to working from home, business leaders realised that the grand return to the office would be more subdued than they first thought.
It soon became apparent that even the best plans could be subject to change by the neverending course of the pandemic. Prominent business leaders waved goodbye to the ideal return to office date, changing their tune to "we'll see how it goes," while many others began to embrace the possibility of a new way of working: hybrid.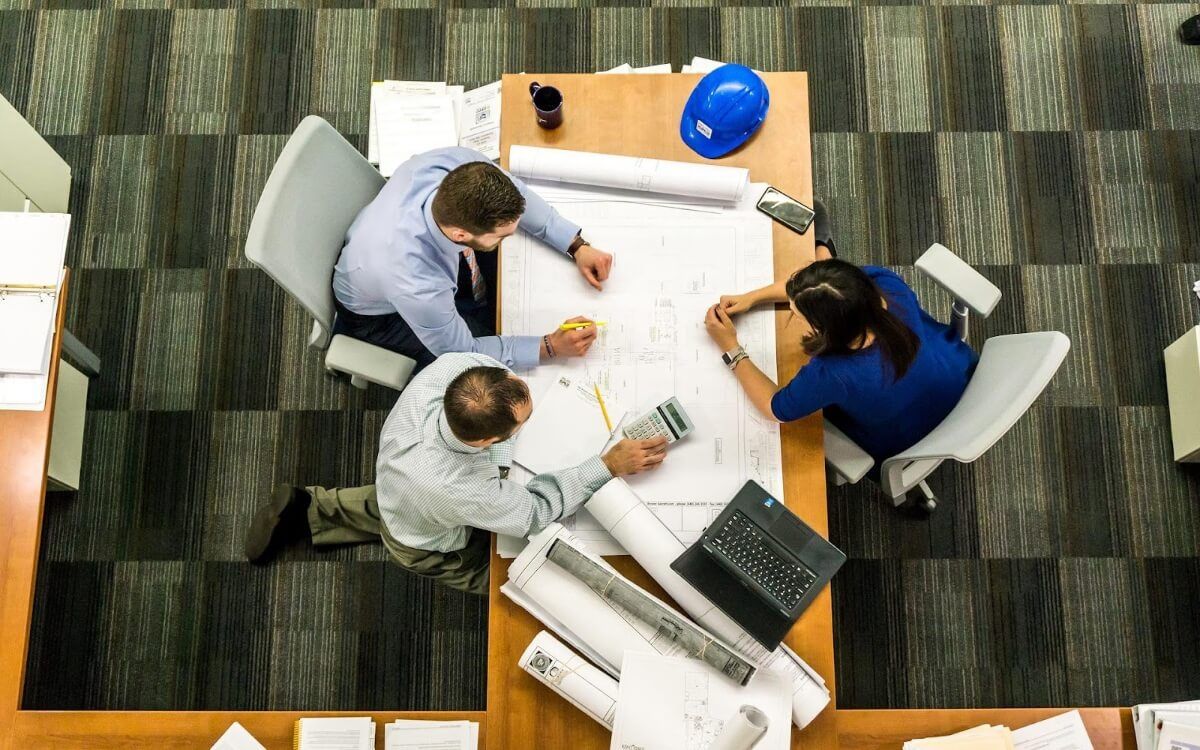 A new era of hybrid working
The pandemic may have forced us to work from home. However, after doing it successfully for nearly two years, many employees, executives, and even company owners now prefer to work remotely.
While remote working has been a positive experience for many people, that's not always the case. Some jobs demand in-office time for practical reasons, while other team members need social interaction for mental wellbeing. Other times, collaboration and project success significantly increase with planned in-office meetings.
Simply put, it's clear remote working has its benefits, but working in-office has its pros, too.
Welcome, hybrid working.
By bringing workers back to the office with a hybrid working model, you can get the best of both worlds. You can take advantage of the convenience of not commuting to work every day, giving your workforce autonomy over their working day while allowing room for some face-to-face interaction by arranging meetings and training at the office.
How to bring workers back to the office with a hybrid work model
If, like many businesses, you've seen the benefit of remote work but want to add in the option of in-office work, instead of deciding when to bring your team back to the office, you should consider how to bring your workers back with a hybrid work model.
Before you set your return to work date and bring employees back on a part-time basis, consider these factors to ensure a smooth transition:
Ensure that the office technology works
Operating a hybrid model adds additional complexities for tech. You've likely embraced various tools to enable remote work during the pandemic. But before your employees return to the office, ensure that the office setup and technology are in place and connect seamlessly with the remote tech stack.
Software, like DuoMe, that helps people plan the best days to be in the office is also a must. Ensuring employees get the most value out of the days they commute to the office is essential to value the experience and keep coming back.
Make commuting as easy as possible
Commuting costs money, and it eats up time. One of the reasons working from home became so popular was that people did not have to spend money and time sitting in traffic going to work every day.
So, now that you are encouraging your workforce to return to the office on a hybrid basis, evaluate the company's benefits program and consider offering initiatives to offset the cost of commuting. Also, carefully consider the times you require employees to be in the office and how this is affected by local rush hours and public transport options.
Make office time collaborative and enjoyable
The pandemic proved that people could be highly productive when working from home. In fact, many feared that going back to the office would slow down the work pace.
Office time can, however, be made much more efficient and enjoyable by using it for collaboration and face-to-face interaction with colleagues. Plan your in-office time to take advantage of the face-to-face interaction, planning 1-1 meetings, group chats, and wellbeing check-ins.
Think about the office layout and improve it
Sometimes remodelling the office into a more inviting layout can be an excellent way to make returning to the office more alluring.
Before getting the employees to return to the office and finalising office reopening plans, you should re-evaluate the office layout and ensure that it is an effective setup that allows for effortless and enjoyable interactions.
Training days at the office
Over the past few years, remote working has proven to be effective. So, now that employees are returning to the office on a hybrid working model, you should make sure that the days in the office are efficient and help build the team dynamics.
For instance, training days with the team and supervisors can help establish more stable work relationships and better team dynamics.
Write a hybrid work policy
When employees utilise the hybrid work model, a hybrid work policy should be in place. The policy should outline all the important elements from security and safety to equipment and office working hours.
Address pushback early on
Working from home in the past couple of years has been welcomed, and many employees would still prefer to stay at home. So, there may be some pushback when employees are asked to return to the office.
Thus, it is essential to ensure that the employees feel comfortable returning to the office and look forward to coming in. For instance, you can ensure that all office days are productive and fun by arranging training, meetings, and even paid lunches.
Plan days in-office
One of the most essential things to consider is how many days a week the employees will work at home and how many at the office. Are there certain dates when everyone should be at the office each week? Or are the office days set per month?
The perfect time to return to the office is when scheduling has been planned and set so that everyone can arrange their commute, personal situations, and meetings accordingly. This is what DuoMe offer to businesses.
The verdict: Is there a perfect date to bring workers back to the office?
There's no perfect date to bring your employees back to the office. In fact, there's no one-size-fits-all anymore. The best businesses have learnt from the pandemic that their employees are highly productive, motivated, and capable when given the autonomy to plan their own working day.
Instead of being set on returning to the office, establish a new way of working that embraces the benefits of remote with the advantages of in-office teamwork. Bring your team back to the office using a hybrid working model successfully, and you can benefit from improved productivity, increased collaboration, cheaper running costs, and happier employees.