A quick scan of the London commercial property sector reveals the rapidly changing attitudes to office space. Office occupancy rates are stabilising at roughly half pre-Covid levels, with many people choosing to embrace the hybrid work patterns for good.
As a result, companies are looking for smaller offices that reflect the overarching shift to hybrid work.
Yet, it is not enough for organisations to simply inhabit a smaller building in an attempt to keep up with changing times. The function of the office has also changed.
It is no longer the primary location where work gets done, this now happens location-independent. So the previous requirements of large offices with an abundance of individual cubicles, desks and personal offices are becoming relics of the past.
Times are changing and hybrid office space designs need to reflect that.
Consider this your guide on how to design hybrid office spaces that work. First we explain why employees come into the office (and it's not for work), and then how different office layouts can facilitate hybrid working. Whilst always providing plenty of design inspiration on how to create the best possible hybrid layout, of course with plenty of design inspiration. The goal of this article is to guide organisations in creating a better work experience for all.

Why People Come Into The Office
Offices are not a requirement for getting work done and being productive, remote work has proven that. Companies wanting to encourage people to return to the office need to examine the reasons behind what would motivate them to come into the workplace.
The latest data from the Microsoft Work Trend Index revealed that employees have a strong desire to socialise with their colleagues.
When asked what would motivate them to return to the office, the results were overwhelming:
84% of employees would be motivated by the promise of socializing with co-workers
85% would be motivated by rebuilding team bonds.
73% of employees would go to the office more frequently if they knew their direct team members would be there.
74% of employees would go in if their work friends were there.
Aside from the obvious need for human interaction, employees are also using the office for in-person meetings and intentional collaboration.
The office space has morphed into a hub for human connections and socialising, as well as activities which cannot be done at home such as collaborative work or in-person meetings.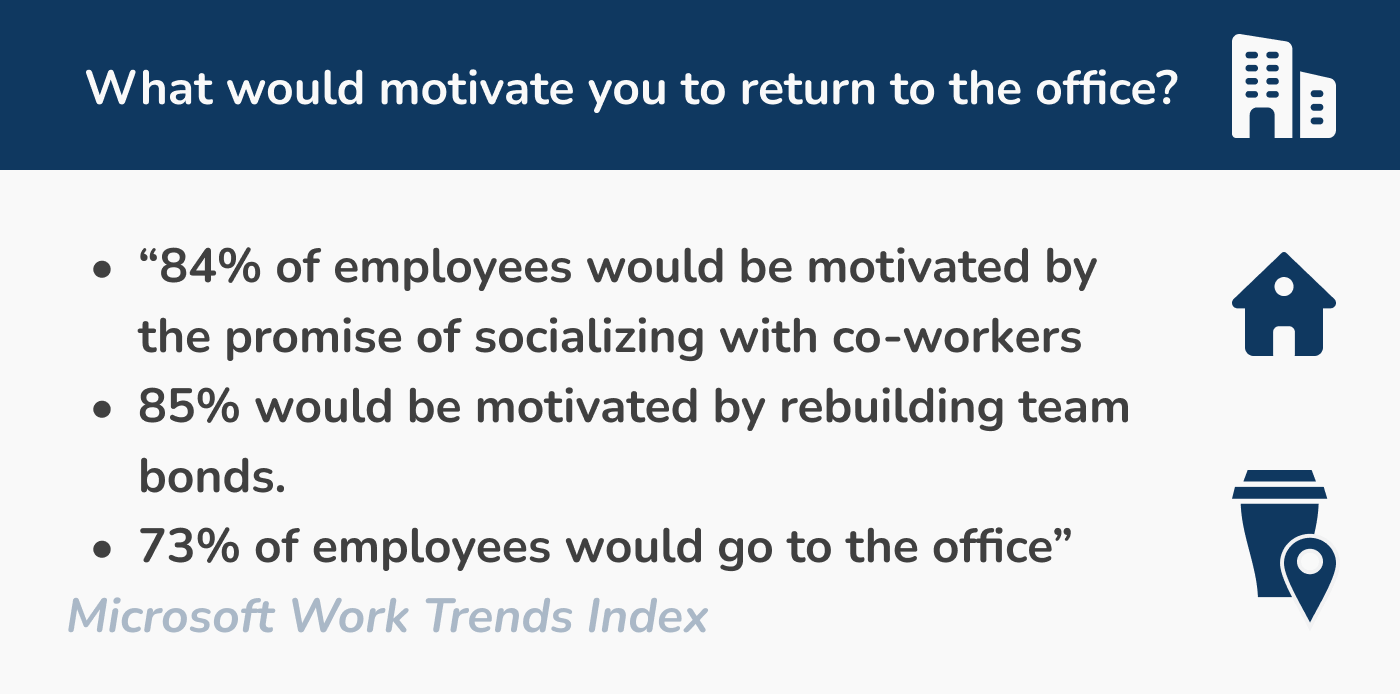 Hybrid Workspace Design Tips
1. Out With The Old
Although many companies are choosing to relocate to smaller offices to save on costs and cut down on their carbon footprint, there are also organisations who are staying put in existing locations but instead redesigning the space to better suit their needs.
The first step in designing an optimal hybrid workspace is the initial removal of the old desks and workspaces. The beauty of the hybrid work model means that there is inherently less need for desks, and that extra space can be put to good use for a creative work environment.
If budget allows, knocking down walls will open up spaces to allow the creation of a seamless flow around the office. A blank canvas will let the imagination run loose into thinking up new ways to use the space to facilitate socialising and productive meetings.
2. Blending Functionality With Socialising
The main challenge with hybrid office space design is how to blend the functionalities of office design with the needs of social spaces. The hybrid design needs to find a way that combines both working spaces with social areas.
Google has long been hailed for its innovative and unique office designs, like its Washington headquarters which even features a rock wall. Although how much use it gets is probably debatable unless its sole purpose is for the wow factor.
The design has focused on an open layout with an abundance of informal meeting areas that blend seamlessly into the office feel.
The varied options are available for people to choose from as workstations create a home-from-home feel, allowing people to get up during the day and work from a new spot when stuck in a rut.
The Malaysian Google office has managed to incorporate elements of Maylasian culture in their large open spaces ideal for the hybrid work model to thrive.
3. Open Collaborative Spaces
As employees are coming in directly for meetings, a key pillar in hybrid office design is going to be the creation of open collaborative spaces.
Redbull has taken this literally with their large open meeting area placed purposely in the centre of the office, perfect for informal team meetings or catchups.

This hybrid office design inspiration taken from Fairfax's headquarters shows a professional feel that still allows for complete transparency which is a must-have in today's corporate world.
If space allows, the ideal hybrid workspace would involve a mix of both informal and more formal, structured spaces for all types of meetings. From profit meetings to impromptu brainstorming sessions to intensive campaign planning, there is a collaborative space for all of them.
Technology will also need to be incorporated into the design of collaborative areas.
From dedicated video conference rooms with high-spec microphones, cameras and interactive whiteboards, to a more standard meeting space with a simple flat-screen TV and people's own laptops sufficing for video calls.
Whatever path you choose for your hybrid office, it's definitely worth thinking about it earlier rather than later in the design process. No one wants an awkwardly placed extension cord strung across the conference room.
4. One-On-One Meetings
Not all meetings are going to have ten or more people attending.
This means that in looking for your hybrid office design inspiration, you will also want to look for smaller, more intimate spaces perfect for one-on-one meetings, staff reviews or even delivering bad news.
Some organisations will be able to create incredible dedicated booths, nooks and dens perfect for a focused meeting. Google is another great example of their imaginative creations in the office.
Clearly, not all design budgets will allow for such extravagant concepts.
If your organisation is restricted by budget, expandable and moveable partitions will also serve to create smaller areas perfect for delivering serious news.  
A more realistic example of hybrid office inspiration is seen below from California Closets headquarters which has managed to turn one open space into dedicated areas perfect for solo working and collaborative meetings with only partitions.
5. Hot Desk Considerations
A near-constant feature of hybrid workspaces is hot desking and as such, this is likely to be a focus when designing a successful hybrid office layout.
IBM is currently refurbishing one of its main campuses in Warwick and these designs are a fantastic example of how to arrange a hot-desking set up.
There is a multitude of different options available with private booths, group desks and breakout areas all coming together with a dedicated coffee bar complete with a full-time barista to create a laidback coffee shop vibe.
6. Scheduling Tools
Different hybrid work models can feature vastly different work schedules, and it can be impossible to know whos coming in when which could lead to overbookings for hot desks and meeting rooms.
When figuring out how to design your hybrid office, it's not just about the interior. Time will also need to be dedicated to researching appropriate hybrid work scheduling tools and booking systems of workspaces and meetings.
There are great options available with calendar coordination features, room booking systems and more that help provides a seamless experience for all employees coming into the office.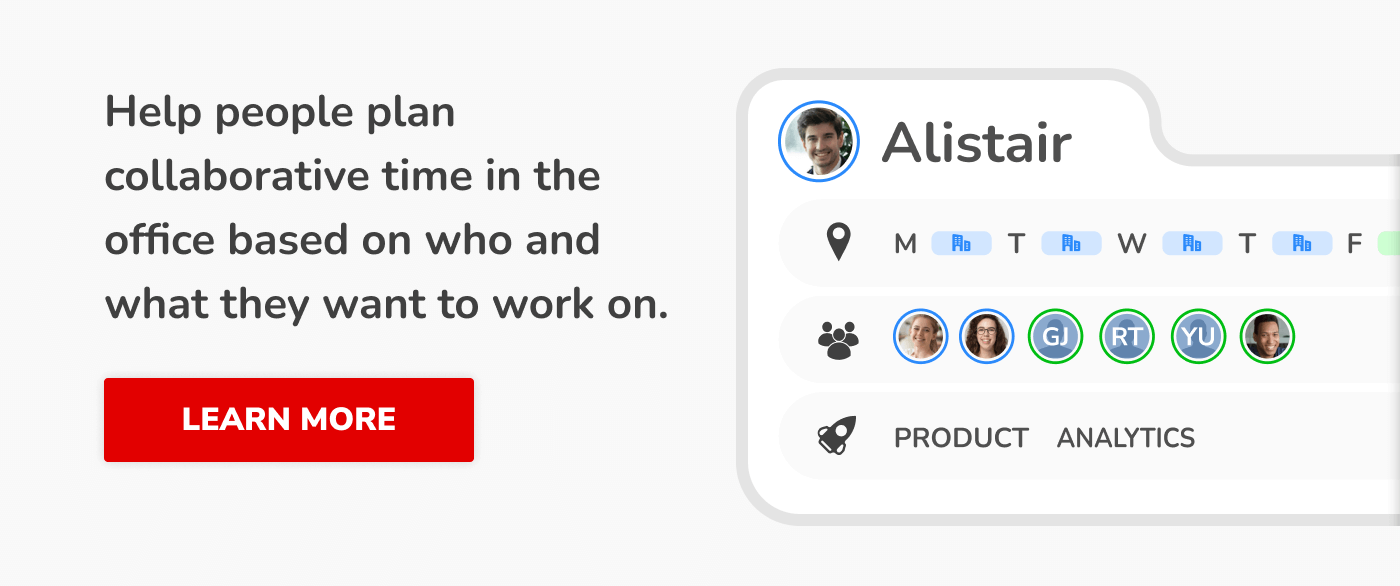 7. Home Is Where The Kitchen Is
Larger organisations understand that food is a fantastic conduit to social interaction and have invested large amounts into building dedicated canteens, cafes and bars. The canteens often have an extensive selection of delicious food available either for free or at a subsidised price.
Plenty of socialising happens throughout the day in the canteen hub, from morning coffees to team lunches. They are an area of enjoyment for employees and can create a heart in the company.
As an added bonus for employers, a survey by Seamless found that 60% of employees who receive company food feel more valued and appreciated leading to higher job satisfaction and boosted morale.
8. Social Areas
As well as a dedicated canteen, innovative organisations and modern startups are pouring money into wellness features within their office spaces focusing on facilitating social interaction.
These can range from state-of-the-art gyms and lap pools to simple rooftop areas dedicated to group Yoga classes on a Friday morning.
There is an option for every organisation size, the key feature is an open space that can multitask from a wellness area to a socialising hub where a positive work culture can thrive.
This is a key focus that follows hybrid workplace best practices focusing on happy, healthy employees with high engagement and low attrition rates.
As well as areas dedicated to wellness, other companies are creating licensed bars that are also open to the public, like the newly built rooftop bar at SafetyCulture Headquarters in Sydney.
Luke Anear, CEO of SafetyCulture stated about the new hybrid office, "It's fantastic that today people can work effectively from anywhere, but we still need a place to come together as a team and collaborate. This is why we've put so much energy into creating a workplace that people genuinely enjoy spending time at."
Final Words On Hybrid Office Layouts
If organisations want to thrive with their newly adapted hybrid work models, then they will need to spend time and resources ensuring their office space meets the needs and wants of employees. It's also expected that co-working services will provide hybrid adapted workspaces that companies may leverage to enhance what they offer to employees.
Focusing on the office as a social hub rather than a place of work is key.
About Author
Simon Osman is a serial founder and investor with multiple exits in tech-based companies.