Management styles are diverse, but the hybrid era is shining a bright light on the efficiency or, should we say, the inefficiency of many of them!
Previously, a strict team manager could get away with being difficult to work with because the rest of the team was always present to provide office-based moral support. Nowadays, managers need to be more holistic in their approach, or they risk being squeezed out by the hybrid model.
How can you best manage your hybrid team when you have so many other things to think about?
We've put together this handy 10-point checklist to help you make the most of your hybrid team so that you can focus on steering your team towards the right objectives.
1. Openly Share Your Vision With Your Hybrid Team
Let your team members know which direction you're moving in, so they can share your vision for the future.
Be honest about the challenges you'll face, and let people know how their contribution moves the team towards your long-term vision. Give people a common goal, then navigate the route to success together as a team.
2. Refine Your Onboarding Process
Employees who are encouraged to take control of their own work experience are naturally inclined to perform well. Hire people who have a collaborative attitude and don't get overwhelmed by the unknown.
Once you've found these people, give them a solid foundation of quality training. New employees should be given a mentor, and they should have all the tools they need to work comfortably wherever they are.
3. Invite Individual Participation
Identify the people in your team who are silent observers and actively connect with them. Listen to their opinions, hear what their experience is like, and then invite them to make an individual contribution to your team or project.
When the silent observers feel included, it creates a ripple effect through the rest of your team and unites people in their shared hybrid work experience.
4. Create A New Hybrid Team Culture
One of the biggest problems hybrid managers face is the accidental shift in company culture. Homeworkers start to feel left out, while office workers may begin to feel like the homeworkers do less work.
This subtle change in mentality can cause the team to adopt two conflicting cultures, making the team more difficult to manage. The best way to avoid an accidental cultural shift is to create a new, intentional culture for your hybrid team.
Be clear about your team values. Make sure that any communication point with every team member aligns with the hybrid team's culture.
Have an online-offline buddy system so that people far away can always feel connected to a live human. This ensures that no one person feels excluded and prevents people from drifting away from the shared company culture.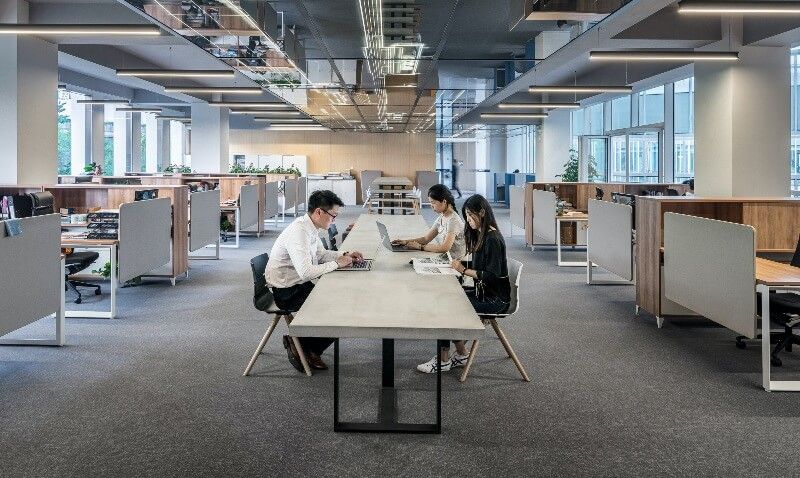 5. Build Genuine Trust With Your Hybrid Team
Hybrid work presents a myriad of change-driven challenges. People are pushed outside of their comfort zones.
Many people are working from home in a sub-optimal home office, making them feel like it's easier to fail at home than in the office. Some teams may also have previously discouraged homeworking, creating an underlying perception of mistrust with no real ground.
Trust is a two-way process. Your team needs to trust that you'll give them the benefit of the doubt when things don't go to plan. Everybody should have open communication doors, and people should feel psychologically safe within the boundaries of their new work environment.
In return, managers should trust their employees to do their work as best they can within their personal situations. The best managers take an individual interest in their team members, so they can tailor their support system to meet the proper needs of each person in your team.
6. Nurture Inclusive Behaviours
Successful hybrid teams rely on the right combination of people being together at the right times to optimise everybody's performance. Employ active listening. Empathise with people to see how you can reduce any potential workplace anxieties before they become a problem.
DuoMe's hybrid work scheduling software helps coordinate your team roster or schedule around the team's needs, but the team members should also be encouraged to make small points of contact with each other throughout the workweek to keep the team close.
Think about ways you can encourage socialisation. Perhaps you can have a team coffee break on Zoom, or arrange weekly catchups in a nearby coffee shop. The goal is to create regular touchpoints in your everyday team environment so that nobody feels left out or left behind.
7. Encourage Active Learning
What the pandemic showed us is that people love to learn new skills. During lockdown, people from all walks of life taught themselves everything from speaking Spanish to old-school butter-making, which has reawakened the importance of workplace learning.
Hybrid managers need to provide opportunities for self-development and encourage people to find solutions on the job.
Give your team members time to upskill themselves. You may like to include an online learning platform subscription in their employee benefits or send them on an industry-relevant training course.
Some people are also naturally inclined to seek out new ways of doing things, which should be actively encouraged in hybrid teams. It's a good idea to have regular face to face interactions for people to share their challenges and new nuggets of knowledge with each other. If somebody in your team finds an easier way to perform a task from home, let them feel heard and use their discovery to benefit the entire team.
8. Set Measurable Goals
Goals and objectives have moved away from presenteeism. Being in the office the most hours isn't the benchmark of a good performance. The transition towards output-driven metrics that measure the quality of work produced is a crucial theme of hybrid working.
Hybrid teams can become stressed when the goals shift, so it's essential to be clear about what you expect quality work to look like from the outset. Set out your expectations in writing, and make sure that all hybrid team members know where to get the answers they'll need to perform well autonomously.
9. Lean Into Micro-Gains
Hybrid managers and the people they manage face unprecedented workplace challenges in today's new normal. Each micro-gain makes an enormous impact on the success of a hybrid team.
Small wins have taken on new shapes, and these should be celebrated. If a team member figures out how a piece of challenging software works or gets the job done in a busy family home, send praise.
10. Be Kind
People are motivated by their ability to make a difference. Performance appraisals in a hybrid team should always lean towards positive encouragement over negative critique so that people feel trusted and valued within the team.
Stick to the facts behind the person's measurable performance, but take time to listen to their challenges so that you can work with the employee to make improvements where needed.
Managing Hybrid Teams Is About Staying Agile
Today's hybrid managers are stretched in new directions every day. The best hybrid managers actively understand the people they manage. Listen closely to people to gain a genuine insight into their personal situations and daily challenges.
Find ways to implement micro-gains that will improve individual performance. Foster a sense of belonging within the team. Communicate clearly, always with the team's collective culture in mind.
If people feel trusted and valued, they'll become the prized members of your thriving hybrid team.