The purpose of hybrid working is to facilitate a better balance between life's chores, work requirements, and people's personal activities, in a way that promotes ongoing productivity for both the employee and their employer.
Hybrid working stretches employees to learn and grow as their roles take shape, but it can be complicated to coordinate when people's schedules misalign.
This article looks at how the hybrid work model is redirecting the future of traditional work and gives you everything you need to know about hybrid working environments.
We'll answer your questions about what hybrid work means today, and we'll show you how you can approach hybrid jobs in the future, so you can create a thriving workplace that's inherently geared for success!
What Is Hybrid Working?
💡
Hybrid working is a style of flexible working where employees can combine their home, office, or other work location of choice to suit their work or lifestyle needs.
Hybrid working takes into consideration people's location, daily tasks, time worked, and personal preferences, to create a more healthy work-life balance whilst retaining or in some cases improving productivity.
It is generally based on a hybrid working system or policy put in place by their employer. Hybrid work can be fully flexible to individuals or scheduled to suit the employer's business needs.
Hybrid working can be arranged according to:
Location: where is the best place for this work to take place?
Task: what are people working on?
Time: when are people expected to be at a particular location?
Productivity: where can people focus on the right projects or initiatives?
Collaboration: who needs to work in person for a project to be successful?
Preference: where individuals are trusted to choose the best place to do their work themselves?
Planning where people work has become more important than it used to be. In the past, people either went to work or stayed at home, but hybrid working means that people and businesses now have more flexibility around the way they wish to conduct their work.
This has brought flexible working to millions of people around the world but also many issues for managers and employers all over the globe!
Unlike previous and more linear work models, new working and hybrid work models require intentional collaboration, which needs to be planned carefully to avoid wasting time and valuable resources.
People need to think about who they are working with, as well as the tasks they are working on. Teams should then plan their time, tasks, and location, to join the dots in the most efficient way possible. This is necessary to ensure that synergy and productivity are optimised across the organisation.
What Are Hybrid Positions?
Hybrid positions are newly-adapted positions that allow people to do their work from multiple locations, rather than strictly from the office.
In a hybrid working pattern, those with hybrid positions work some of their time from the office, and some of their time from home. Some hybrid employees may also choose a third location, such as a co-working space, or a local coffee shop.
Before the pandemic, many roles across most industries were categorically done from the office, because people believed this was the only way they could do them.
Lockdowns forced people and companies to think about why they needed to do some roles from the office. When people had no choice but to figure out how to work from a different location, they managed to do it quite easily.
Unsurprisingly, most people adjusted really well to homeworking, which has led to a revolution of hybrid working post-pandemic, despite the easing of lockdown restrictions that allow people to make a full return to the office.
Today, everyone from call-centre sales consultants to tech developers, high-street travel agents, HR consultants, junior doctors, and politicians, all work from home some of the time in a hybrid work model.
Hybrid positions are particularly attractive to people who are naturally disadvantaged in an office environment, because people with special needs can split their time between having an office environment for some of the time, and being more comfortable at home when needed.
Employers offering hybrid positions can attract and retain the most talented staff because staff feel trusted to reach their full potential. Those with quality hybrid positions available also set the bar high for diversity, equality, and inclusion, which is having a positive impact on the general workforce.
How Do Hybrid Models Work?
Hybrid models work by facilitating flexible jobs within the employer's unique hybrid work policy. Hybrid employees may choose a flexible location, flexible hours, flexible projects, or a flexible team. The hybrid model works because it considers how people's own dynamics can be accommodated within the operational needs of individual organisations.
A hybrid working pattern is a mix of days worked from different locations. This can be fixed to specific days that are always worked from the same place, or left to the employee's own discretion each day. Employees in the same team may have a different hybrid working pattern, and some hybrid working patterns may be more flexible than others.
Hybrid models work by synchronising what people need on any given day. How each hybrid working policy is created depends on both the employer and the type of employee they are looking to attract.
What Are The Different Types Of Hybrid Working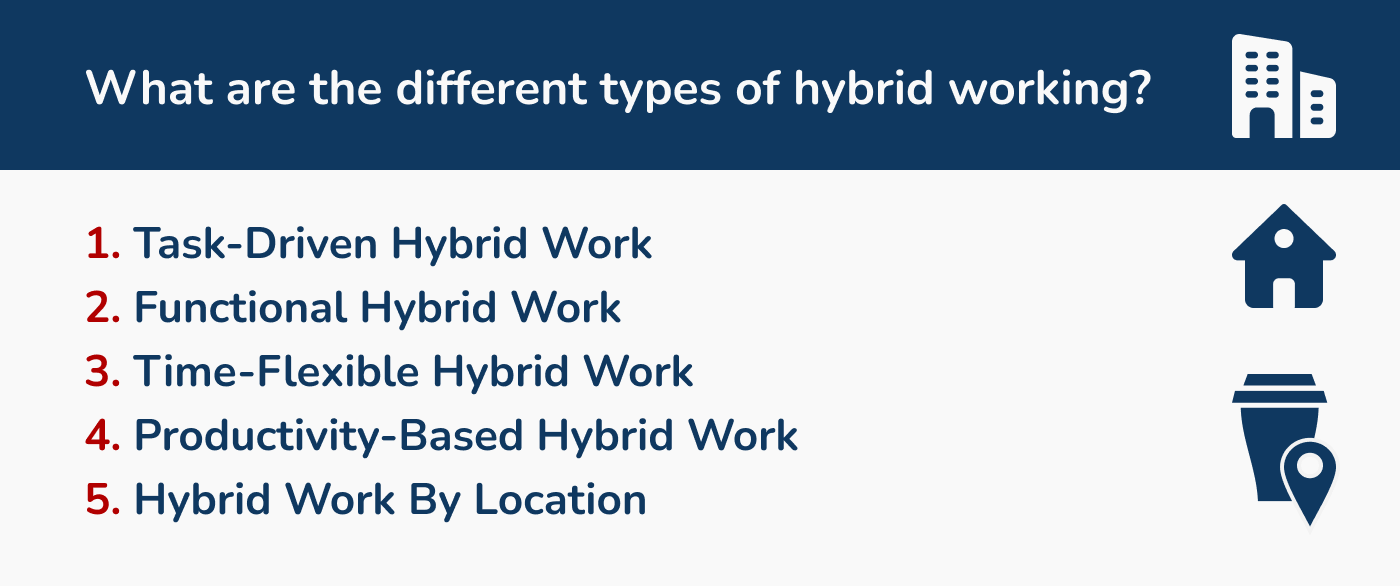 There are 5 ways hybrid working patterns that can work for you and your business:
1. Task-Driven Hybrid Work
In task-driven hybrid work, people create their hybrid work patterns around which projects they are currently working on, and can change their patterns when their workload changes. This lets employees co-ordinate their projects around the people they wish to collaborate with at key moments, and creates a dynamic hybrid working pattern that's more fluid than simply mixing locations in an organised schedule.
Whole teams may work from the office for brainstorming and revisions, then retreat to home or go to a local coffee shop when it's time to focus on getting things done.
2. Functional Hybrid Working
Some tasks need specialised equipment, while others need little more than a working laptop. Functional hybrid working splits the location between the office and home, but the same people always work from the same place, which is decided by their function.
Members of the team who look after equipment, handle face-to-face sales or manage IT may always work from the office, while those who deal with accounts, HR, and social media might always work from home.
3. Time-Flexible Hybrid Working
Businesses that offer 24-hour customer service - and those where employees are often inclined to work late - may choose to create a time-focused hybrid work policy.
Employees working more sociable hours come to the office each day. Night owls, people who love the 5am club, and those covering the night shift will work from home where they can be more comfortable.
4. Productivity-Based Hybrid Work
Individuals are given the freedom to work where they'll be most productive.
Output-based choices can be made by individuals each day. Employees may be allowed to choose how much time they work from each location, or they can be asked to be in the office for a minimum number of days each week.
An employee on a productivity-based hybrid model might work from the office on Monday to get into 'work-mode.' They may choose to work from home on Tuesday and Wednesday to attend an event at their child's school or to focus on doing the tasks and work they planned on Monday.
On Thursday, the same employee may return to the office to catch up with colleagues or to enjoy an after-work drink, before winding the week down in a local co-working space or coffee shop that is nearer to home on a Friday.
The beauty of productivity-based hybrid work is the flexibility it gives people to do what suits them, instead of just fitting in with traditional work models that are dated and tired. As long as the work is done to a high standard, it doesn't matter when or where the work takes place.

5. Hybrid Work By Location
Work location is often not tied to actual work, so the best employers are using hybrid working arrangements to attract and retain better staff.
Employers can keep existing staff happy by reducing their travel times. Businesses can dip into wider talent pools because so many people are looking for a hybrid job, meaning they can hire people from further away without the constraints of five days a week in a geographical location.
Many people are willing to commute for further distances a few days a week than they would be for a full five. Employees who had previously managed long daily commutes can work from their remote cottage in the countryside instead.
The location-based hybrid workplace is a blank canvas, with many benefits for employers that get it right.
Is Hybrid Working Here To Stay?
Since the easing of lockdown restrictions, over 80% of British people who were asked to work from home have said they would continue with hybrid working. In the same report conducted by the Office for National Statistics, only 8% of workers said they would return to the office permanently.
According to the 2022 Ordnance Survey, the majority of people who were asked to work from home during the pandemic will return to a blended hybrid workspace, which will remain in place indefinitely.
Until recently, the flexibility to work from home was offered as a perk, not a right. However, forced homeworking during the pandemic means governments across the world are now looking at ways to normalise creative work patterns.
At the time of publication, 13% of all people in the UK were working hybrid models in early February 2022, and by May 2022, the ONS reported that 24% of employees across all industries were in hybrid positions.
Examples Of A Hybrid Work Model
Examples of hybrid work models include all semi-remote working arrangements where people work in multiple locations. There's no single example of a hybrid work model that fits all companies. Businesses across the world are each handling their own approach to hybrid work based on what works best for them.
Hybrid work models fall into a spectrum. Some businesses are offering free-range hybrid flexibility with fluid boundaries, while others are implementing measured control within a hybrid attitude.
Microsoft
Microsoft has adopted a hybrid work policy that offers complete flexibility to create a different hybrid work model for each job description, which is decided by the hiring manager. Hybrid jobs advertised define which policy will apply, and what the expectation is for that particular role. The flexibility offered may include all office work, 50% home-working, or 100% home-working, and may also offer flexible hours for some roles.
"A hybrid workplace empowers our people to do their best work so we can empower the planet to achieve more." - Microsoft
Spotify
Spotify has a work-from-anywhere policy. Hybrid employees decide on their own hybrid working models in collaboration with their line managers, to suit their individual preferences. Employees may work from home permanently, may work from the office full time, or may combine homeworking with office work as it suits them.
"Part of our DNA has always been controlled chaos. So, in the spirit of this, we're trying this out knowing that there are likely to be some adjustments to make along the way. By experimenting and unlocking all talent we also enable diversity and inclusion, and make new jobs and markets available." - Spotify
Apple
At the other end of the spectrum, Apple has implemented a relatively rigid hybrid working model where staff are expected to work from the office on Mondays, Tuesdays, and Thursdays.
This policy marks a positive shift in Apple's previous view that work should always take place at work, but it has come under fire recently because staff feel that it goes against their natural innovation.
The fixed policy is counterintuitive alongside one of Apple's core values as stated on their career page:
"Join our community and help define it. Explore a collaborative culture of inclusion, growth, and originality, supported by resources that make a difference in your life." - Apple
Apple is already in the process of reviewing its hybrid policy, which highlights the importance of adapting your hybrid policy to suit your business objectives in a way that makes sense to your people.
While there is no fixed answer to what the right hybrid working model looks like, these examples show the scope of what's possible when you define your teams' hybrid working rota.
What does a hybrid workplace look like?
What all hybrid workplaces have in common is their need for clear communication, which must outline the specific expectations for that particular hybrid workplace
The hybrid workplace looks different in every organisation. Some hybrid workplaces may be strictly defined by polices that are written in great detail, outlining tasks, time and location and how that affects employees' schedules. While other hybrid workplaces may present a much more loose model that leaves the day-to-day decisions like choosing when to come in up to employees.
It's important to note, there is no right way of hybrid working. It comes down to what works best for a particular organisation in its industry.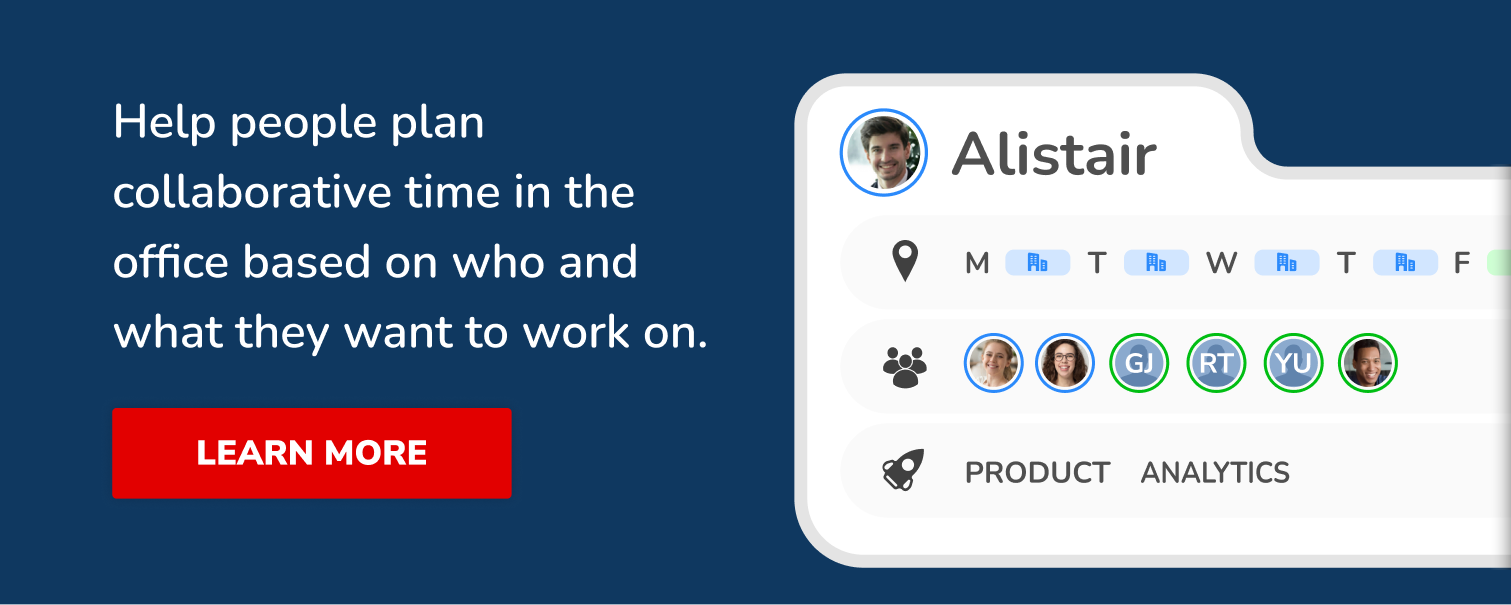 How To Get Hybrid Working In Your Business
A company who is interested in introducing the hybrid work model would do well to pay attention to the following points on how to get hybrid work arrangements successfully.
Trust - Organisations must put their trust in their employees if they want to enjoy a harmonious hybrid model. Employees will work well together and get their work done regardless of location if they feel respected and valued. Trust is a core feature of that.
Team Effort - When first introducing a hybrid work arrangement into the organisation, it will require ongoing work from both the leadership team and employees. Employees are the ones who will be experiencing the hybrid workplace so it makes perfect sense to involve their direction when designing a hybrid work policy.
Clear Goals - Knowing what the company plans to get out of hybrid work will do wonders in ensuring the policy reflects that. Does the organisation hope to increase retention? Do they want to get their employees back into the office? Is it employees wanting a better work-life balance? Are they wanting to overhaul a toxic company culture? All these are possible goals that could influence a hybrid policy.
Hybrid Workplace Collaboration
Once the policy has been designed, the work is far from over to ensure that hybrid working is successful in an organisation.
Organisations new to this way of working will then need to relearn how to work in these novel conditions. This is no easy feat, as collaborating between remote and in-person employees can be difficult.
Spontaneous five-minute meetings will no longer occur with employes no longer in close proximity every day. Therefore, collaboration has to become an intentional affair.
Fortunately there are many ways to mitigate this. Organsiations will need to immerse their employees in the new technology available to them that eases both remote and in-person meetings. Hybrid meetings can become a productive affair if there is a touch more planning involved, setting clear agends, staying focused on the goal and utilising innovative collaborative meeting ideas.
Do Employees Want To Work Hybrid?
In February 2022, the ONS data reported that 22% of people across the UK were working from home, which reduced to just 14% who were working exclusively from home by the end of May. This indicates that hybrid working is having a positive effect on the national workforce, and is statistically now the most desirable style of flexible work.
Interestingly, the 2022 Ordnance Survey reported that home working exclusively has decreased, indicating that previous homeworkers are now hybrid workers.
Let's explore the many benefits of hybrid work below. We've also written a detailed rundown on the benefits of hybrid work specifically for employers if you would like to explore this topic further.
Benefits Of Hybrid Working
The benefits of hybrid working have been recognised by nearly every official body, worldwide. Hybrid work brings physical and mental health benefits, improved productivity, increased profitability, easier financial savings, and a greater desire to innovate. The benefits of hybrid working have pushed humanity forward in a positive direction.
The UK Government is currently undergoing consultation to make flexible working the default. Below are the 8 core benefits of hybrid working, which bring unique advantages to businesses and hybrid employees in equal measure.
Better Work-life Balance
Hybrid working arrangements have reinvented traditional flexitime, because having a better work-life balance is no longer just tied to people's daily hours.
Today, people following a hybrid work model can create a bespoke work-life balance that changes to suit their daily needs, and is less restrictive than previous flexitime models. This is something that employees would tout as one of the most important advantages of the hybrid work model.
Previously, a quality work-life balance on flexitime represented going to work for fewer hours some days and more others, or at different hours to the standard 9 to 5.
People working hybrid now have flexibility of location which can free up many hours during the day with reduced commutes or in some instances more effective working. Additionally, being able to plan to be based at home around key like a doctors appointment or a childs school play, mean that people are more able to accommodate more life activity into their regular weekly working pattern..
Today, many people can adjust their workplace location, daily tasks, and working hours to suit their individual requirements, without having to change the scope of their roles to accommodate their required flexibility.
Better Focus Without Distractions
Hybrid working means that people now have the flexibility to create the right working environments for themselves. People can also change their own working environment to suit different projects or modes of working. This helps most people to stay focused without distractions.
In an interview with The Verge conducted in 2020, Mark Zuckerberg - CEO of Facebook and one of the world's most influential people - said,
"The thing that's been positively surprising to people is that people are more productive working at home than people would have expected. Some people thought that everything was just going to fall apart, and it hasn't." - Mark Zuckerberg
Location flexibility in hybrid work optimises individual performance because each employee can work where they are most productive. For some people, that means going to a busy office where people are collaborating on projects and inspiring each other to stay motivated.
Some people like to get in the zone by themselves at home, or work in a coffee shop where there is background chatter that's not directly relevant to them. When distractions do creep in, hybrid work adapts, and the hybrid employee simply relocates to somewhere more productive for that particular moment.
More Personal Time
Hybrid work arrangements facilitate more personal time for the majority of people, without changing their basic employment agreements. This is achieved through enhanced efficiency, less time preparing for work, reduced stress, improved mental health, and greater time flexibility to fit work into their personal requirements.
The ONS found that over half of all hybrid workers feel they complete their work more quickly when working to a hybrid pattern. This improved efficiency - combined with shorter commutes and fewer tasks needed before work each day - means that people can enjoy more personal time in their everyday schedule.
People on hybrid work models spend less time packing lunch, dressing themselves up, running for the bus, travelling to work, and generally preparing themselves mentally for a long day at the office. These extra hours saved makes the work day more productive for many.

Easier To Save Money
Hybrid working helps employees and organisations to save significant amounts of money. For employees, this is achieved through tax benefits granted to people who work from home at least some of the time and spending less to get to work. For organisations, money is saved through reduced operating costs, often by reducing the size of office facilities they provide employees.
In January 2022, the Office for National Statistics posed a question to people who now work from home more frequently as a direct result of the 2020 pandemic. The question asked was, "Since working from home more because of the coronavirus (COVID-19) pandemic, do you feel you are spending more or less money?"
Almost half of new homeworkers who started working from home because of the pandemic were spending less. Of those surveyed, 46% of homeworkers report they spend less money when they work at home, compared to just 18% who feel they spend more money working from home, and 28% who spend the same amount when they work from home as they do when they go to the office.
This statistic is notably different to the results of self-employed homeworkers who did not start working from home because of the pandemic. In the same report, 49% of originally self-employed homeworkers say there is no change to their spending habits since the start of the pandemic.
IT Upskilling
Increased hybrid working as a direct result of the pandemic caused people and companies to re-evaluate their standard operating procedures. Communication tools, cyber security skills, shared working documents, and online project management platforms have led to a positive and global IT upskill effort.
Zoom revolutionised the way teams communicate by providing a simple IT tool that's quick to learn and easy to use. Homeworking during the pandemic led to a 300% growth during the fiscal year ending in January 2021 for Zoom, with reported revenue of $2.65 billion in the same year.
This boom also spurred immeasurable growth for the 191,000 commercial enterprises that relied on Zoom to conduct their meetings in 2021. This is anticipated to grow by a further 53% in 2022.
"Work is no longer a place, it's a space where Zoom serves to empower your teams to connect and bring their best ideas to life," says Eric S. Yuan, Founder and Chief Executive Officer of Zoom. "We are energised to help lead the evolution to hybrid work that allows greater flexibility, productivity, and happiness to both in-person and virtual connections."
Other tools such as Slack's informational messaging platform, Microsoft's shared working documents, and DuoMe's team scheduling software, have all seen enormous growth as a direct result of hybrid teams needing to up their IT game post-pandemic.
Autonomy Facilitates Happiness
A major benefit from hybrid working is the increased levels of happiness in employees generated by autonomy. In a global report generated by Danish audio and video conferencing tech giant, Jabra, employees with different levels of hybrid autonomy were asked about their personal experience at work.
Questions were asked in direct relation to people's place of work. People fed back on their:
motivation
productivity
sense of belonging
trust in their team
trust in their leaders
perceived level of impact
mental wellbeing
overall work-life balance
The purpose of the survey was to create direct links between autonomy in hybrid work models and people's overall work experience.
Jabra's report found that employees with high levels of autonomy who have the opportunity to choose both when and where they work from, are generally happier than those with low autonomy. At Jabra, 57% of highly-autonomous employees surveyed choose hybrid work, compared to just 15% who want to work in the office full time, and 28% who like fully-remote work best.
This indicates that autonomous hybrid work has a direct impact on the organisation's ability to create a positive work experience for its employees.
Kelly Nagel, President of North America at Jabra, says: "Empowering people with the autonomy to optimize their time and tasks as they see fit is absolutely essential to building an equitable company culture. As such, forcing everyone to work in the same way – that is, to work in the same place from 9 to 5 – will inherently alienate any employees who can't balance their lives with that outdated and narrow conception of work."
Improved Job Satisfaction
Hybrid working improves job satisfaction by empowering people to take better control over their own work experience. For both employees and employers, this is a key benefit of the hybrid work model. Hybrid employees spend some time working away from the office on their own terms, which lets them feel free to choose how their own work day looks.
In the Journal of Consumer Research published in August 2010, renowned social psychologists, Hazel Rose Markus of Stanford University, and Barry Schwartz of Strathmore University, posed a simple question: "Does Choice Mean Freedom and Well-Being?"
They concluded that "choice is viewed as essential to autonomy which is absolutely fundamental to well-being. Healthy people want and need to direct their own lives... choice defines the self because choice is both the engine of independence, and the mark of independence."
Hybrid working gives people choice, which elevates their sense of freedom, and in turn, lifts their job satisfaction.
Reduced Absenteeism
Hybrid employees are less likely to call in sick because hybrid working arrangements give employees more opportunities to relax. Life fits easily into hybrid working, meaning that people can attend work without 'pulling a sickie' whenever they need to attend to childcare, or deal with other important responsibilities.
Hybrid working can help address workplace imbalances. Employees who are easily stressed, prone to bullying, or dealing with glass ceilings, are less likely to feel overwhelmed coming to work. Happy employees are more likely to embrace a healthy work mentality without falling back into regular absenteeism.
Organisations offering hybrid work tend to have fewer meetings. This not only reduces unnecessary stress and the risk of increased absenteeism to avoid it, but also helps businesses to reduce the hidden costs of meetings.
Decreased daily stress, fewer meetings, greater inclusion, and the opportunity to integrate life and work in a way that actually works for individuals means people enjoy their work, and are less likely to avoid it with voluntary absenteeism.
Disadvantages Of Hybrid Working
The disadvantages of hybrid working mainly affect people's ability to feel included, and to work well with others. Hybrid working can lead to burnout, increased reliance on technology, cultural shifts, challenges with communication, and difficulties scheduling complex rosters that don't all look the same.
Loneliness
In May 2021, Forbes published an article on the effects of loneliness experienced by hybrid employees. According to Forbes, people with hybrid working arrangements can feel disconnected, which not only negatively affects productivity, but also limits people's ability to build trust.
Quality relationships rely on trust, so loneliness ultimately erodes people's capacity to form strong bonds with colleagues, which has a knock-on effect into the way teams work together.
Loneliness can have a significant impact on mental health and wellbeing.
According to the UK's leading mental health charity, Mind; "Some research suggests that loneliness is associated with an increased risk of certain mental health problems, including depression, anxiety, low self-esteem, sleep problems and increased stress."
People Don't Always Work Well With Others
A decreased sense of belonging, combined with increased stress and mental fatigue, means that teams who once got along well don't always adjust perfectly to a hybrid environment. CNBC Reports over 80% of HR Managers feel their hybrid employees are exhausted. This is largely fuelled by the ongoing stress of figuring things out, and fire-fighting new scenarios each day.
The added stress puts strain on employee relationships, which can cause people to either lash out unnecessarily, or retreat into further isolation. Communication is key, but communication becomes more challenging as the relationships break down, which can further exacerbate the problem in an already-difficult work environment.
Increased Burnout
An HR Management study conducted by organisational psychologist, Edel Conway, explored the relationship between HR practices and employee engagement in relation to hybrid work models at the start of the financial crisis in 2008, long before the pandemic of 2020.
Edel Conway writes, "Burnout is considered to comprise three dimensions - emotional exhaustion, cynicism and inefficacy – and has also been associated with lower productivity and performance (Maslach, Schaufeli, & Leiter, 2001). Maslach and Leiter (1997) argue that engagement becomes eroded when burnout is manifested, which conceptually places burnout at the other end of the engagement continuum."
This cycle of burnout has been enhanced by the pandemic.
People have grown frustrated by the lack of freedom found in lockdown, which has made some people more vulnerable to increased cynicism, emotional exhaustion, and the inability to live and work in a well-balanced mental capacity.
Hybrid employees who made the shift into a hybrid position at the end of their tether are now struggling to keep up with the demands of their hybrid working arrangements, and may be more reluctant to try something new.
Greater Reliance On Technology Can Be Risky
Technology is essential to successful hybrid working patterns, but it can cause security risks. The digital transformation, whereby hybrid employees have been given access to sensitive IT systems beyond their office walls, has left people and organisations more vulnerable to cyber-security attacks.
In an article published by the Financial Times, Alistair Neil, Director for Security, EMEA and APAC at Verizon Business, says, "Things are often done for ease and speed. People post things to unsanctioned storage servers and cloud storage accounts, or email corporate information to home accounts to print out on the wireless printer. This digital acceleration needs to be accompanied by a corresponding security transformation."
Verizon Business reports that 67% of all cyber-security breaches in 2020 were related to social attacks and credential thefts, largely caused by phishing in business emails.
Businesses need to take care of their long-term security now that the hybrid dust has settled, and people are starting to implement hybrid work models for the foreseeable future.
Shifts In Company Culture
Another possible challenge presented is the shift in work culture. Hybrid working has caused a shift in organisational culture because the individual hybrid work experience is different for everybody. Homeworkers can feel disconnected, while office workers can feel unsupported, so it can be difficult to create a new company culture that keeps everybody on the same page.
Previously, most people went to work in an office and forged strong workplace relationships with others in a like-for-like scenario. This developed company culture at the roots, because people were surrounded by like-minded colleagues every day.
Hybrid employees experience external influences, and can slip away from company culture without realising it. Gartner reports that HR leaders in all industries are struggling to adapt their company cultures to suit new ways of working.
The solution is to develop a new company culture that grows with the hybrid model, which is not always easy to implement in organisations that already have a long-standing and well-established company culture in place.
Hybrid teams need to be carefully managed from the get-go.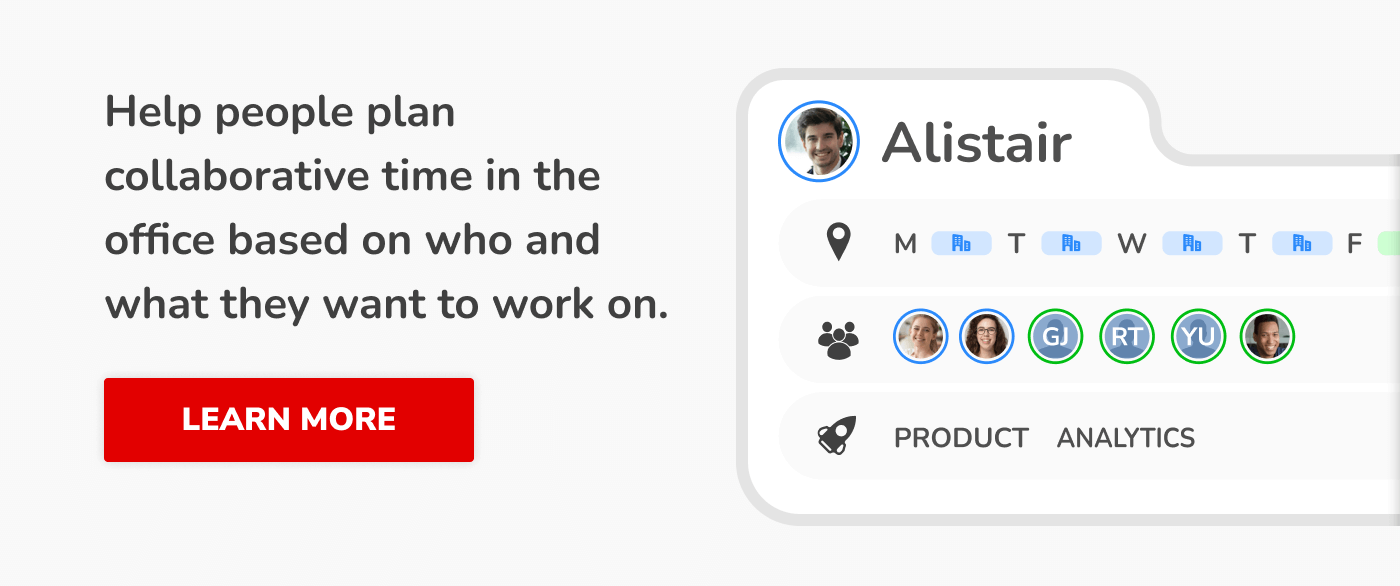 Difficult To Coordinate And Plan Schedules
Hybrid working makes it difficult to schedule complex rosters. HR Managers must juggle employees with different levels of time flexibility, task flexibility, and location flexibility. People should be in the right location at the right time, which can lead to miscommunication, wasted journeys, and general frustration within teams.
This makes coordinating when people should be in the office challenging because people don't always agree about what the right hybrid workplace should look like.
For example, one person may feel that hybrid working is best when people can decide where they work based on what they're doing each day. Another person may create their hybrid working pattern around who they want to be in the office with - and who they might like to avoid!
Managing a hybrid team takes careful coordination at a grassroots level. Some people need to collaborate in person, while others need to focus at home. Which scenario applies depends on what people are working on, and how their personal life fits into their work hours.
Spreadsheets and shared calendars are not always effective when it comes to scheduling hybrid teams. This causes unnecessary stress for HR Managers, who are finding it increasingly important to use sophisticated software that schedules hybrid teams more effectively.
Is Hybrid Working The Best Of Both Worlds?
In most situations, hybrid working is the best of both worlds. Hybrid work allows employees to enjoy a combination of office work and working from home. This means people can reap the benefits of both scenarios without needing to choose one place of work.
Hybrid work means employers can offer improved work benefits to attract and retain talented staff, while at the same time save money and protect the environment.

Conclusion
Hybrid working as a concept is not completely new, but it has adapted faster than it should have done over recent years. Businesses that may otherwise never have offered hybrid work were forced to figure things out during the global lockdowns, so hybrid work is now the new normal.
Hybrid working has accelerated at unprecedented levels, but it's not as complicated as people may think. Hybrid work models simply offer employees flexibility to work from multiple locations, which increases their productivity and makes work more enjoyable.
Happier employees who are granted the flexibility to create a healthy work-life balance - or allowed full autonomy to control their own positive work experience - are easier to work with.
They have high levels of loyalty, value opportunities to learn new skills, and drive organisations forward with innovative solutions that grow revenue.
Organisations that offer hybrid work positions benefit from reduced operating costs, with greater capacity to attract and retain talented employees.
Hybrid work means less pressure on the environment, greater communication, and the opportunity to create a global workforce that's filled with people who can work from anywhere. This makes companies more sustainable, and more desirable to work for. It keeps people feeling driven to succeed.
Communication is the key to successful hybrid work environments.
When communication fails, employees can become disengaged and burnt out. Tensions can mount quickly within teams, and businesses are left vulnerable to cyber-attacks or long-term mental health concerns amongst the hybrid workforce.
People and businesses working to a hybrid model need to be organised, open, kind, and flexible. This allows employees to create a healthy work experience that accounts for time flexibility, task flexibility, and location flexibility, in a way that mutually benefits both the organisation and the wider community.
When done right, hybrid work is a widely-enjoyed and accepted work model that's been successfully used for decades in all industries, all over the world.
About Author
Graham Joyce is co-founder of DuoMe, a flexible working advocate and a frequent panellist/commentator on the issues of flexibility or hybrid working.