Seamlessly transition into a hybrid workplace by adopting industry best practices that put individuals' needs first whilst still keeping the company's culture at heart.
The new hybrid work model has forced companies to reevaluate their old work arrangements, place and time are no longer the consistent controls they once were. Instead, they are dynamic variables that differ for each hybrid employee.
By learning how to manage the new working style, leaders and employees can benefit from the flexibility and freedom the hybrid work model affords.
We're going to break down the top seven hybrid work model best practices your company will look to be adopted in 2023:
Understanding Hybrid Work
Stay Flexible And Open
Create The Right Workplace Environment
Using Technology To Your Advantage
Value People's Time
Keep The Office Fair
Never Stop Learning

7 Hybrid Workplace Best Practices
Understanding Hybrid Work
Before you can be sure that your organisation follows hybrid workplace best practices you first need to possess an in-depth understanding of what hybrid working is.
"a way of working that allows employees more flexibility to choose if they work from home or if they work from the office, generally based on a hybrid working system or policy put in place by their employer. Hybrid work can be fully flexible to individuals or scheduled to suit the employer's business needs."
As you can see, hybrid working at its core is all about respecting each employee as an individual and as such, understanding that everyone's needs are different. There is a key human element to hybrid work that wasn't previously apparent in traditional workplaces.
When you're planning your new hybrid workspace, you'll need to consider the different factors that work together; such as location, time, collaboration as well as personal preferences and changing trends.
Make sure you're also considering your existing company culture as well, do your hybrid working guidelines support your organisation's values?
Stay Flexible And Open
Once leaders have established their new way of working, don't slip into the traditional mindset that rules are rigid guidelines that can't be changed. Hybrid working is all about flexibility and being able to adapt to the unpredictability that life throws at us.
Employers should maintain an open mind and keep adjusting their hybrid working guidelines as appropriate.  Listening to feedback and being open to the changing needs and expectations of employees is a key part of hybrid working best practices. For example, research from Microsoft has shown that 83% of employees would be motivated to go into the office if they can socialise with each other. Highlighting the importance of connection and bond-building between co-workers, which before the pandemic, might not have been so high on priorities.
Create The Right Workplace Environment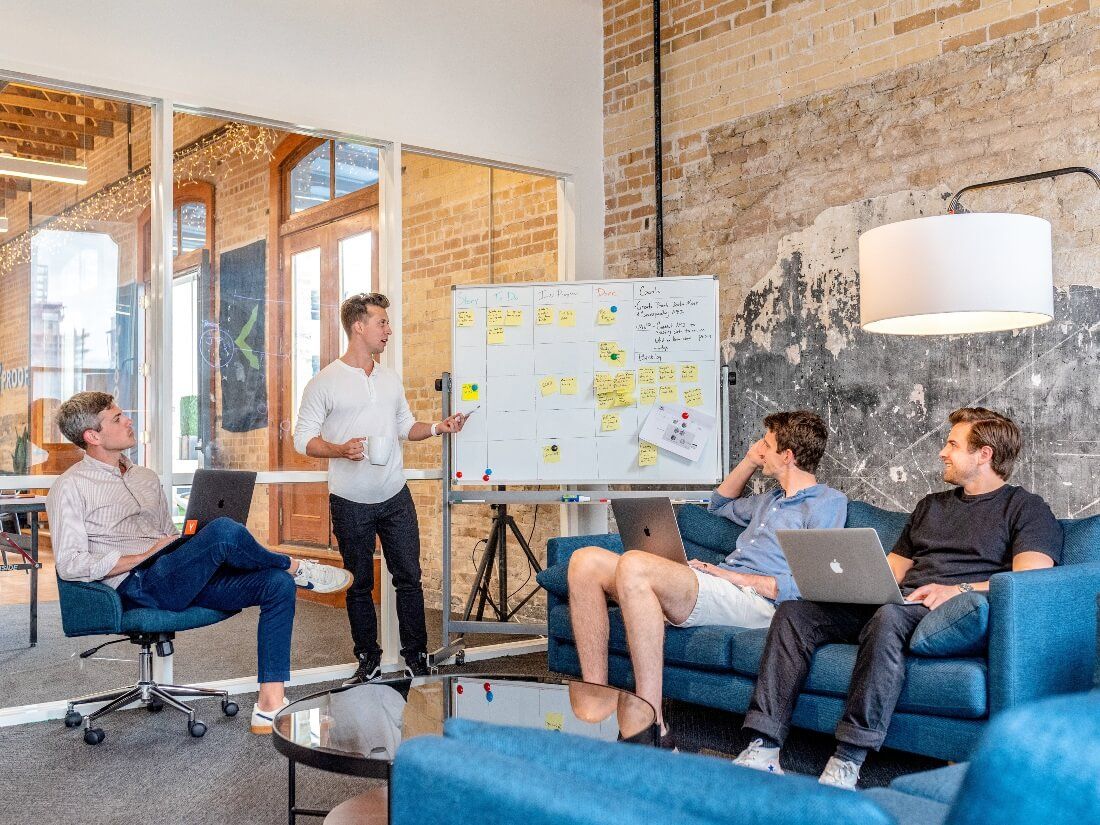 Although your employees may not be in the office full-time, that doesn't mean that office space design shouldn't be considered.
The traditional office layout with fixed desks or cubicles is becoming defunct. Instead, offices need to be designed with a more flexible approach that can be adapted to the needs of both businesses and employees.
Hybrid working means that offices are changing, and fewer desks are needed as the benefits of hot desking drive demand for a flexible layout. But although fewer desks might be required, more meeting rooms and collaboration spaces are needed, as well as areas for socialising.
Leaders will want to design a versatile hybrid office environment that serves their organisation's employees. If companies are keen to encourage employees to come in, at least on a weekly basis, leaders will need to create a special workplace that gives their employees a reason to make the commute. Workplace gyms, social bars or cafes could all be ways to increase employees' presence.
Using Technology To Your Advantage
Whatever flexible working model your company decides on, you will definitely be spending time selecting the right technology to help provide a smooth remote work experience.
Take your time finding the right software that fits your company's requirements to ensure your company's best practices are being followed. You'll want to talk with individual team members, the HR department and most definitely the IT team.
At a minimum, the following tools need to be decided on:
Video Calls
Day-to-Day Communication
Project Management Tool
It can be tempting to keep adding different tools and platforms, but your teams will reach a point where they become overwhelmed with trying to keep on top of all the different tools. So, bear that in mind when you're deciding whether or not to add another platform and see if you can instead find platforms that perform various functions in one.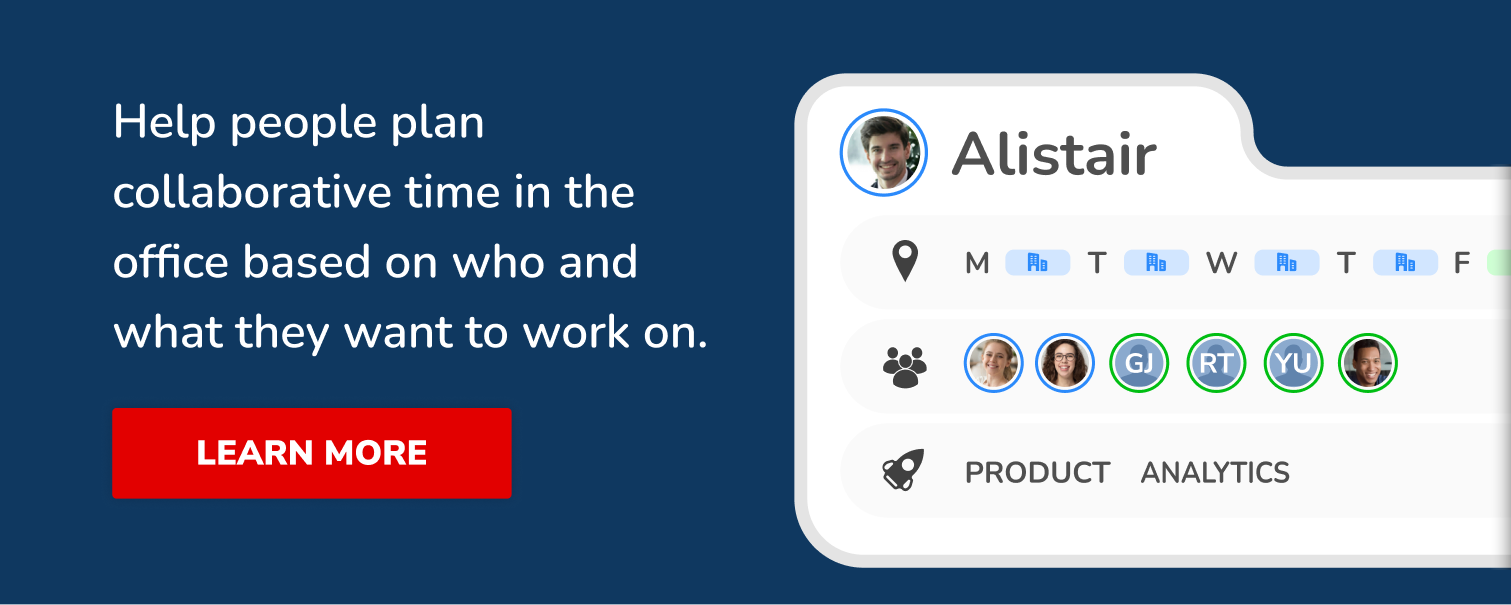 Value People's Time
The power of giving people's schedules back to them is the mark of a modern organisation keeping up with changing times. It is a way of respecting the wants of millennials and Gen Zs who value their own time over flashy benefits, people are wanting a healthy work-life balance instead. This makes the consideration of employees' time one of the most important hybrid work best practices to implement.
Spotify, for example, has chosen to adopt a work-from-anywhere hybrid policy, giving their employees the autonomy to decide on a hybrid work model that best suits their individual schedules.
Keep The Office Fair
Before the pandemic showed us that most office work can in fact be done remotely, there were often large discrepancies between roles or departments in what work could be done from home and what needed to be done in-office. In our new post-pandemic world, however, traditional companies are forced to admit that there is a place for hybrid work no matter the role or job title.
Companies that try to enforce strict hybrid working rules for one department while allowing more flexibility to other teams will soon find themselves with unhappy employees. If you want to follow hybrid work best practices, then be sure to maintain fair guidelines across the organisation. Additionally, make sure you take the time to organise your remote department to ensure people understand what to do and how to work when remote.
Never Stop Learning
At the heart of a happy and productive workplace are employees who aren't afraid to speak their minds and give honest feedback.
To ensure hybrid working best practices, leaders will need to gather employee feedback on a regular basis and, most importantly, use it to find ways to improve the hybrid work model.
Final Words
While we're all learning to adapt to the hybrid work model and how to follow workplace best practices, we've got to remember that it will constantly be a balancing act. Trying to keep individuals happy while also doing what's best for the organisation as a whole to keep things moving forward.
Ultimately, achieving hybrid work best practices in 2023 and beyond is done by ensuring you maintain a growth mindset and learn from mistakes, you'll remain on the right path.
About Author
Graham Joyce is co-founder of DuoMe, a flexible working advocate and a frequent panellist/commentator on the issues of flexibility or hybrid working.