Not very long ago taking a sabbatical or working from home was a sought-after perk granted to a mere 10% of lucky workers. Then Tim Cook, CEO of Apple, told his employees they should use four weeks a year "to travel, be closer to your loved ones, or simply shake up your routines."
Tim Cook is not alone.
Other global giants like Amazon, Experian, Google, and KPMG, have adapted their organisations to offer everything from a 4-day week to full flexibility with an as-you-wish style hybrid work pattern.
These changes in workplace attitude at a leadership level are significant, given that in 2019 only 27% of the UK workforce reporting any work from home according to the UK Office for National Statistics.
In a global workplace survey conducted by Economist Impact, it was found that 75% of employees believe the company they work for will adopt a flexible or hybrid model as the standard operating procedure within the next 3 years. In a similar survey conducted for 1000 UK-based employees, HiBob reported that 42% of full-time employees work to an arranged hybrid schedule, and a total 63% of employees work at least some of the time from home.
People want to have time, location and schedule flexibility, so hybrid working is here to stay.
What are the Advantages of Hybrid Working for Individuals?
Employees who embrace the delicate balance between organisational culture, process, location and tools - and willingly experiment with their workflow to find what's right for them - are enjoying the enormous benefits of hybrid working.
Autonomy to Control Your Own Day
Flexibility is no longer a perk, but an essential part of the work experience. Hybrid work allows employees to decide how their own day looks, which gives people more control over their work experience, and leads to high levels of overall job satisfaction.
Improved mental health and physical wellbeing
Reducing the amount of time spent on the commute and adjusting schedules to work when most productive has given people more time to exercise and other personal activities. This stimulates a healthy work life balance.
Opportunity to learn new skills and new technologies
The pandemic forced many people to move beyond the borders of their known comfort zones, which has increased our collective desire for blended learning. The greater use of digital tools as people work remote has increased the technical understanding of the workforce in general.
Greater Ability to Save Money
Working from home some of the time means fewer coffee runs, less transport, and lunch from the fridge. Some people have reported saving thousands of pounds a year on the cost of going to work!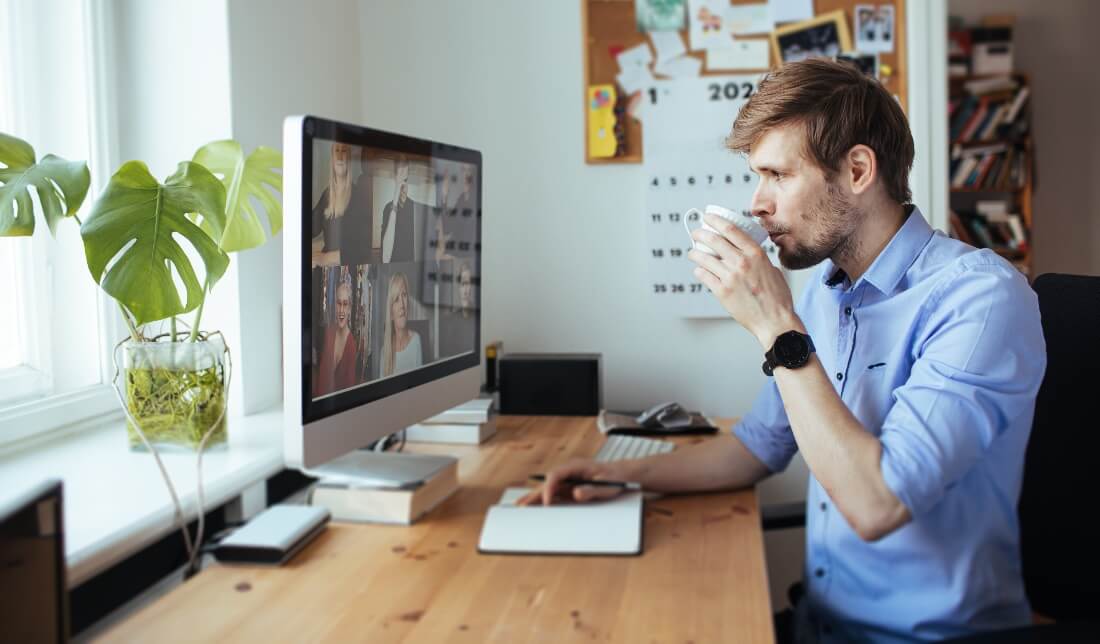 What are the Benefits of Hybrid Working for Employers?
The advantages of hybrid working [EE1] have been firmly established during the pandemic with companies learning to adapt quickly to a rapidly changing work environment.
Increased productivity
Showing trust in employees through greater choices of how they work in a hybrid model is shown to increase productivity. Happy and contented workers are more productive in general.
Giving employees more flexibility means people are more likely to optimise their output for improved productivity mapping the type of work they need to do to the place that produce the best outcome.
Safer work environments
With people attending the office less days than before, more space is available for people to keep distanced from others. Also, with working remote becoming a weekly routine, people are less inclined to come to the office with a minor illness such as a cold and thus reduce the likelihood of others picking it up.
Homeworking takes the pressure off teams, so semi-ill employees can continue to work in a safer environment for all.
Higher job satisfaction leads to improved staff retention
Hybrid schedules give employees more freedom to enjoy life alongside their work commitments, which makes the business desirable to work for. The flexibility offered promotes high levels of job satisfaction, which reduces staff turnover. This approach helps companies develop stronger teams, and attracts talented staff.
Reduced operating costs
The location flexibility afforded by hybrid working has led to a global rethink on what an office should be. Companies are reducing their total footprint at the same time as redesigning the space they provide employees.
Employees now need flexible spaces with multiple purposes, rather than fixed rooms for pre-defined functions. Hot desks, breakout areas, think pods and quiet zones mean companies can create dynamic work zones in smaller facilities at a fraction of the cost.

What Are the Common Pitfalls of Hybrid Working?
Despite the clear benefits of hybrid work, there are some common pitfalls to be cautious of when switching to a hybrid model. Managers need to be carefully trained to set clear expectations, and employees should be proactive about looking after their own well-being when working on a hybrid schedule.
Inconsistent communication
One of the biggest homeworking concerns for both employees and companies is a loss of connection. People feel separated from others when they're away from the office, which can cause organisations to lose their corporate culture over time.
A lack of integrated communication can also make team building difficult and may cause challenges in task management or team schedules. It's essential to have the right tools in place to encourage healthy communication. If you are looking for ideas to encourage remote team-building look at our guide to free, fun remote team-building activity ideas.
Limited networking opportunities and social interactions
Office work facilitates a low level of passive networking throughout the day, but homeworking requires people to actively network for the sake of networking. Some employees may struggle with this, especially if they lack the existing contacts to get started with efficient networking.
Companies can overcome this by arranging opportunities for intentional socialising, which helps to develop meaningful relationships within the team.
Workplace equality can become more challenging
Skill disparities across different age groups affect employees at both ends of the experience scale, which can reduce workplace equality.
Younger employees with less experience may miss out on the opportunity to learn on the job in an office environment, while older employees who lack technological agility can fall behind when using new tools.
The key is to encourage mutual shared learning, regardless of the overall level of experience within the role.
High risk of burnout
Digital presenteeism and a lack of clear expectations can cause employees to feel they need to be available at all times. Lines between work and personal time become blurred, which will at first increase productivity, and then lead to burnout.
Managers should be aware of employee schedules, and all employees should be mindful of sending and receiving work-related communications after hours.
Reduced trust between managers and their employees
When managers can't see their employees some negative assumptions may be made about whether or not the employee is working to their full capacity. This challenges the natural trust between managers and employees, which can lead to resentment over time.
Performance should be evaluated on output rather than presenteeism. If the work is done to a high standard, then the employee should be given the flexibility to control their own day.
Reliance on technology can restrict workflow
Slow WIFI connections, rudimentary office equipment, or the need to ask every question in writing, can slow productivity. Companies should invest in the right tools to keep staff connected in a suitable workspace, even if the employees are working from home.
Hybrid Working is a Spectrum
Today's hybrid work patterns offer everything from complete flexibility to a fixed roster in two different locations.
Managers must evolve to being connectors and coaches, not supervisors and line-drawers, so the culture gap is actively managed to maintain healthy communication and status amongst all team members.
Regardless of how much hybrid flexibility is offered, companies need to recognise that work should benefit their employees. To make the most of hybrid working, the available tools must be carefully weighed against employee behaviours to find the right balance for the perfect hybrid schedule.
When used effectively, hybrid working brings lasting benefits to people and businesses in all industries, across all parts of the world, for greater happiness with improved wellbeing.
About Author
Graham Joyce is co-founder of DuoMe, a flexible working advocate and a frequent panellist/commentator on the issues of flexibility or hybrid working.