Remote working brings with it an opportunity for a better work life balance, but to achieve that you will need to get your work priorities in order. This might sound straightforward enough, but effective time management (figuring out what to do, and when to do it) can be challenging. That's where effective prioritisation comes in, so let's find out what exactly the term means. We will also take a look at a few prioritisation techniques and tools that could help you to have a more productive day.
What is Prioritisation?
"Productivity is being able to do things that you were never able to do before."Franz Kafka, Writer
Look up the word prioritisation and you will be met with a succinct definition: to deal with or put things in order of importance. When you have numerous tasks to complete you simply can't take them all on at the same time. So how are you going to decide what to do first, what to do next etc?
Let's imagine you sit down in your home office to find thirty emails in your inbox and your answer phone beeping ominously. On top of that you have to finish the report that's needed by lunchtime and you also have a 10am online team briefing to attend. The day is looking very hectic, and you need to get going asap.
You're just not sure where to start, and you know you are going to end up flitting between several jobs as you try and figure out what you need to do next. Deciding which order to undertake the myriad of jobs will help you to manage your time more effectively.
Prioritisation Techniques
Prioritisation should be a habit, rather than a handy work tool you can adopt when you're particularly busy. It's about understanding the level of importance and urgency each job carries, and assigning tasks a place in your schedule accordingly.  No matter how overwhelmed you feel it's essential you start the day with a positive attitude and maintain your focus.
Superiors, colleagues, suppliers, customers etc it sometimes feels as though everyone needs something from you. It can be hard to say no, even when you know you are already running at full capacity.
It's important to recognise your own limits, it's not about kicking up a fuss by shouting from the rooftops that you are far too busy already, it's more about assessing what's being asked of you – is the task urgent and important? If so, you will need to prioritise the request. If not, you can check your availability and schedule the task in at a mutually convenient time. Do keep in mind that people do have a tendency to exaggerate, (especially if they feel it will be beneficial to them i.e. the task will get your attention more quickly).
Saying "no" doesn't have to be fraught with negativity. If you hate saying a straightforward "no" try a more positive approach by suggesting an alternative source of help or stating when you will be available to assist. E.g. "I am busy with current projects this week, but will be available on Monday if you would like me to take a look then?" If the task is urgent, they will probably find another way of getting it done rather than wait!
Remember, you might not be able to do absolutely everything on your to-do list, but you can identify the tasks that do need your immediate attention. The key is to ensure your to-do list makes you more productive, rather than more stressed. To do this you will need to draw on your editing skills – so take a good look and identify which tasks are really important, and which tasks can be classified as urgent.
Are there any tasks that are neither urgent or important? Are there any tasks that can be dropped altogether or delegated to another suitable person? You might feel the need to plough on regardless, but racing headlong into tasks won't do you any favours. Clarifying your priorities should become your first job of the day.

Prioritisation Matrix
So, how do you go about prioritising? You can use a handy tool known as a prioritisation matrix (or a time management matrix as it's sometimes known). This should help you to take a critical look at the jobs on your list and decide what fits where in terms of importance. Completing a prioritisation matrix will allow you to take back control of your working day – so you can wave goodbye to staying up until midnight or working throughout the weekend to keep up with your work. There are a number of tools available to help you:
Eisenhower Box
"What is important is seldom urgent and what is urgent is seldom important"Dwight Eisenhower – Former US President
Invented by former US President and army general Dwight Eisenhower, The Eisenhower Box, or Eisenhower Matrix as it's sometimes known, is used to ease time and task management problems. As a general, Eisenhower was heavily involved in strategising and planning, often making difficult choices and juggling numerous tasks. Determined not to end up overwhelmed by his workload, Eisenhower set about classifying tasks by order of importance and urgency. This allowed him to effectively plan, prioritise, delegate and schedule work accordingly, and the Eisenhower Box was born.
Effectual, but simple to use, the method calls on you to split tasks into four groups –
Not important / not urgent
Important but not urgent
Urgent but not important
Important and urgent
The methodology states that all tasks in the not important / not urgent box should be scrapped. If the task holds no value and does not require your attention in the near future, the argument is that it should not appear on your "to do" list.  This leaves us with three classifications.
As you would expect, the first group you should turn your attention to is the important and urgent group. Tasks in this box should be at the top of your list, as they need to be done quickly and concisely. You will also have to deal with the tasks that fall into the important but not urgent group – these jobs do have to be dealt with but not immediately, so you can schedule time at a later date to get these things done.
Finally, we have the tasks in the urgent but not important group. Yes, these tasks do have to be done quickly, but who's to say you have to do it all yourself? If you can delegate the jobs featured in this box you will have more time to focus on more important tasks.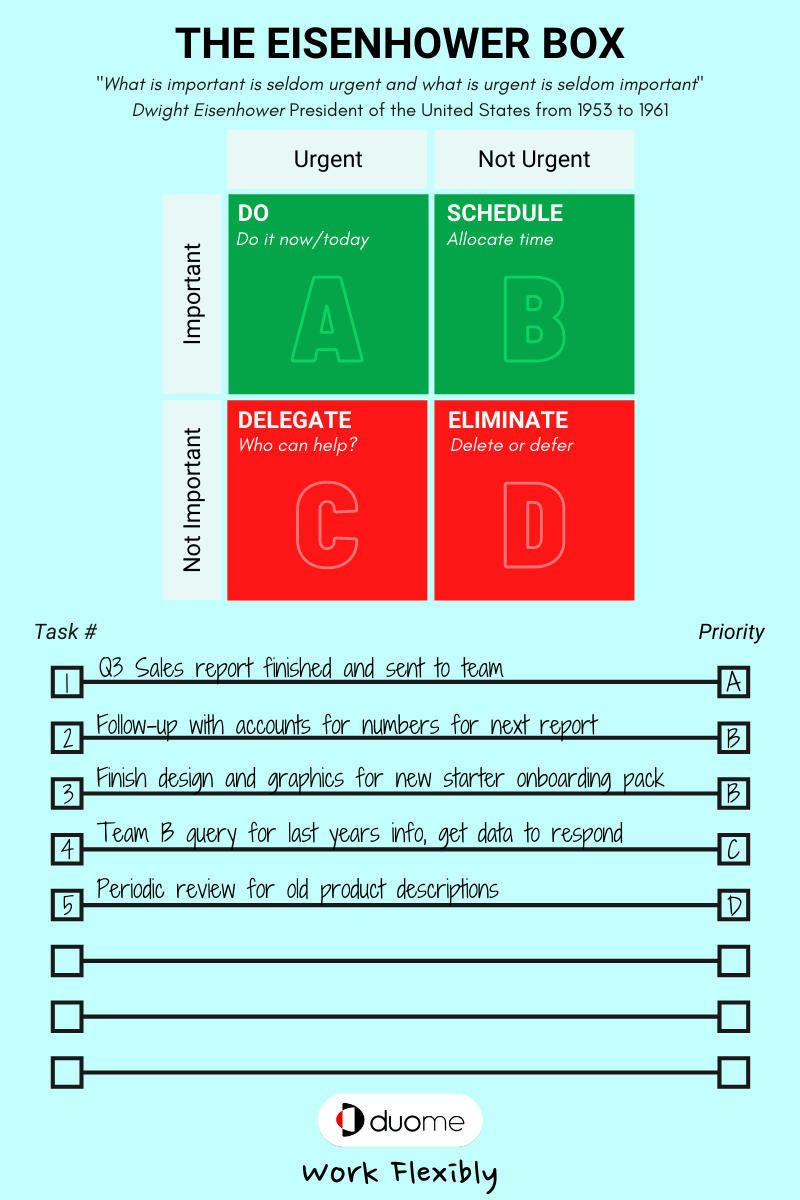 ICE Matrix
The ICE Matrix (or ICE Scoring Method) is considered to be another useful prioritisation tool. ICE is short for Impact, Confidence and Ease – however you might also hear it referred to as Impact, Costs and Effort (both terms effectively provide the same results). To create this type of matrix you will need five headings:
This is the column detailing all projects. It's fine to have a mish-mash of ideas here – this is the time for everyone to put forth views, notions and thoughts. Once you've got your list together you will need to score each project out of five in terms of:
What impact will the project have? Five indicates a big impact and one indicates little impact. This could be in relation to the business as a whole, or impact on certain areas e.g. sales or customer satisfaction.
How convinced are you that the project can be undertaken and successfully completed? Consider project requirements versus resources, abilities, budget etc.
How complicated is the project? If there's lots to do, work out, and set up, chances are you are going to have to devote more time and effort into getting it done (which equals a lower score).
Overall scores are calculated for each project by multiplying the totals in each column. For instance: one of your projects might be to redesign the company website. This can be rated from one to five for each category and might score 5 for impact, 3 for confidence and 2 for ease.
If we multiply these together (5x3x2) we can see that the project will score 30 points. Compare the points for each project to find the most viable.
Prioritisation Exercise
So, we now have an idea of how prioritisation works we need to get down to the nitty gritty of actually doing it! We've created a few handy toolkit pieces to help you on your way.
Pick the approach that you want to try and start writing down all the tasks that you currently have going on. It's often recommended to write down all the tasks that you have, not just the ones that are top of mind right now. The act of clearing out all the tasks in your head into a trusted system to track them, frees up mind space to work on them.
Give it try and see if what you need to work on next is what you originally thought.
Google Sheet Online ICE Template
Prioritisation = Productivity
Prioritisation really is worth the effort!
Get it right and you will enjoy a sense of accomplishment as you tick tasks off your to-do list, finish jobs, hit your deadlines and reach those targets. If you are working remote, setting the priority of tasks on your remote plan is even more critical.
Give it a go, you will find yourself being more productive than ever before, and you can achieve the work-life balance you've been hankering over.