Learning to write clear job descriptions is a must-have skill for all business owners and HR professionals. Writing an effective job description helps you save time in the recruiting process, improves the quality of applicants and also helps define their role when they do start the new job.
Job descriptions are the first step in understanding a potential role and will be referred back to during performance reviews and more, so their relevance can't be underestimated.
It's also more important than ever to learn how to write effective hybrid job descriptions as the workforce shifts to a hybrid-first model. WFH and hybrid roles are attracting seven times more applications than traditional in-person roles.
If your company isn't offering hybrid job roles, then it is operating at a disadvantage, recruiting in a shrinking pool of suitable candidates.
This article will guide you on how to write a hybrid job description as well as a free example template to download as well for writing your own.

How To Write A Hybrid Job Description
Job title, salary and type of role.
Purpose of position and chief responsibilities.
Required experience or qualifications
Desired experience or qualifications
Company benefits and ethos
If you want to skip ahead, please download our free hybrid job description template to craft your own.
Example Hybrid Job Description Template
Step 1: Job title, salary and type of role
The first step will be deciding on the new job title, if this is a replacement then it will be easy. But if this is a new job role then take time choosing the specific job title as this matters to people.
One study showed that up to 64% of people are happy to accept a more prestigious title without a pay rise; titles can make people feel valued and rewarded for their experience.
Next up, you will need to decide if you want to include the salary in the job description. There are currently no laws in the UK that require employers to adhere to salary transparency so this will be a personal decision.
Make sure when writing a hybrid job description it is clear that it is a hybrid role or hybrid job share.
You might want to include example schedules for people if it's a hybrid job. Or if it's a hybrid job share, then you will want to include a brief description of what this entails.
Step 2: Outline Purpose & Chief Responsibilities
Be careful to accurately explain the primary purpose of the role and the chief responsibilities.
Write a short paragraph that describes the overall purpose of the position and how it fits into the overarching goals of the company. You might also want to include the direct reports both above and below them.
This will be important as not everyone has experience as a hybrid leader or managing a remote department, so it could be a great plus if candidates highlight this in their applications.
Next will be the responsibilities, make sure where appropriate to include the frequency of tasks as well as their relationship to the success of the business.
For a hybrid job share, the responsibilities section could be tricky.
A way around this could be by describing all possible responsibilities for the amalgamated position and then being very clear in the description that there are two people who will be involved.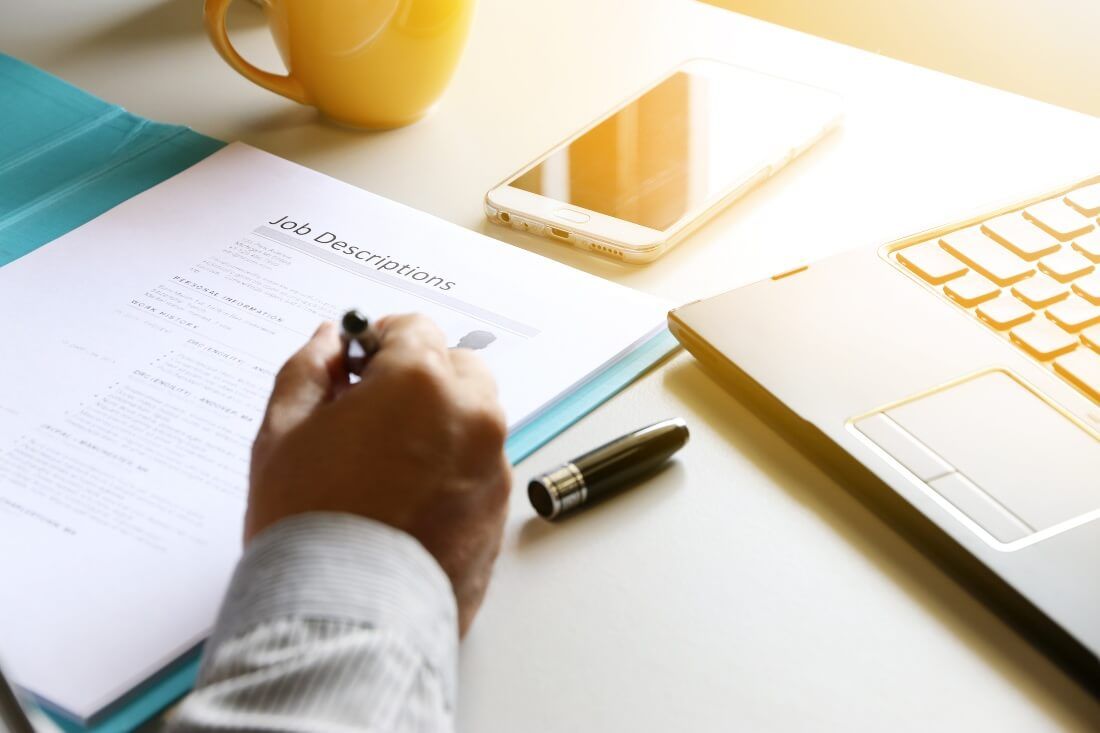 Step 3: Required experience & qualifications
To cut down on the number of not suitable candidates, it is important to list the most essential qualifications and experience necessary in order to perform the role.
Write a list of the non-negotiables when it comes to required skills and experience. And if appropriate, make it clear that applicants who don't fulfil these requirements will not be considered.
However, if you are writing a description for a hybrid job share then this part of the advert will be slightly different.
You could choose to outline potential skill splits or experience and examples of how the job could be shared between two applicants.
For example, a complex marketing role could have someone with a more creative background coupled with another individual who has the analytical experience that comes together to fulfil the requirements.
Or you could decide to list all of the required skills and make it known that applicants will be sharing the role with someone else to provide a full skillset.
Step 4: Desired experience, qualifications & Personality
If necessary, you could choose to include any extra desired qualifications or skills that would be seen as the icing on the cake of a potential applicant.
Aside from listing extra desirables, it might be important, depending on the role,  to include any important personality traits that are needed. If the role is high-pressured then be sure to make that clear. Or, perhaps, the role might be open to change as the company is expanding rapidly, so a person who is open-minded will suit the job better.
If your company is new to hybrid work then it is probably still adjusting to the new work style and as a result, new starters should expect there to be changed along the way.
Step 5: Company benefits and ethos
This is where you can show off the merits of working in a fully hybrid company and why people would want to work there.
If the company operates a fully flexible hybrid work model where employees are free to choose their schedules, this is often a major selling point for candidates. Job adverts can experience an increase of up to 30% more applicants when mentioning the position is flexible.
As attrition continues to be an issue with the younger generations like Millennials and Gen Z, companies who choose to share their values in job descriptions will do better in attracting the right kind of employees.
Shared values at work can help increase employees' feelings of camaraderie and the feeling of belonging to something larger than themselves, resulting in higher job satisfaction.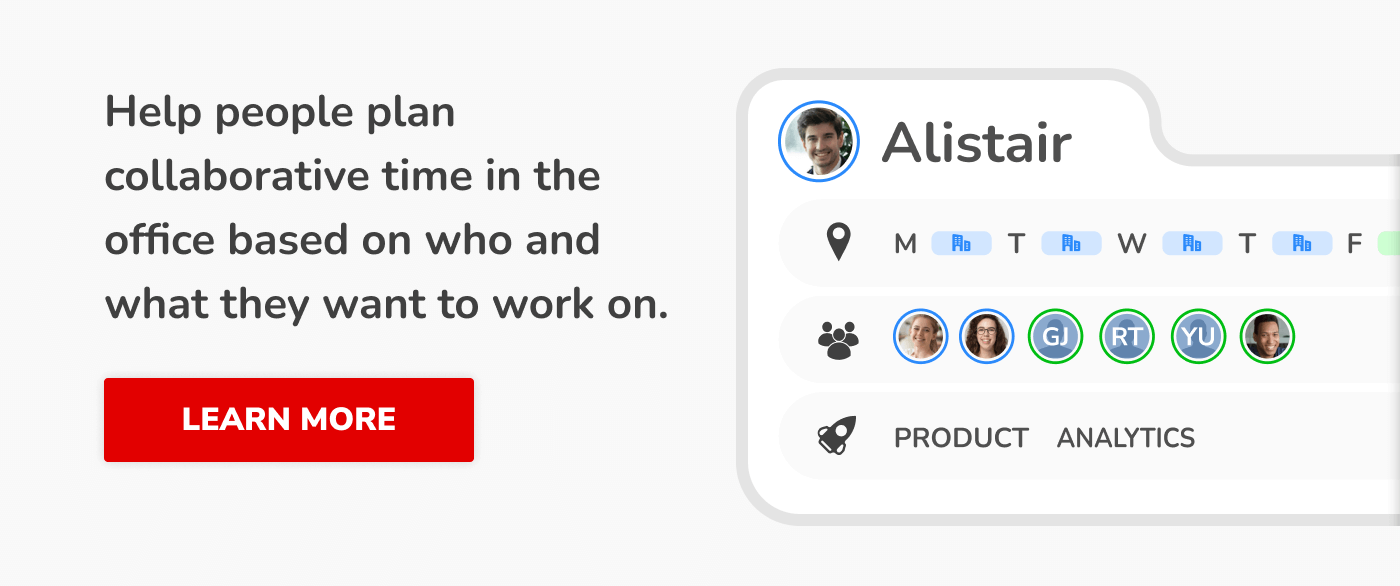 Hybrid Job Shares
It's not just hybrid job roles that you might need to write a description for. There are also hybrid job shares to consider when advertising for a role.
A hybrid job share is when two people undertake one position, using their individual skill sets to complement each other to fill a complex role that might have originally required two separate full-time employees.
As each hybrid job share is unique, you will need to spend extra time designing the job description.
Keep an open mind during recruitment as you might end up altering how you originally envisioned the role depending on candidates and their individual skills. Or it could be the case that the logistics need a second look depending on people's preferred hybrid schedules.
Final Tips
You now understand how to write an effective hybrid job description, when it comes time to write yours, keep it simple and use plain language.
Your goal is to source the widest possible selection of quality candidates, so it pays to spend time designing and editing your job description. If you're not sure, ask for help from other team members as a fresh pair of objective eyes can lend useful insights.
About Author
Graham Joyce is co-founder of DuoMe, a flexible working advocate and a frequent panellist/commentator on the issues of flexibility or hybrid working.