A little bit of news from us all at DuoMe, please reach out if you have any questions. Thanks, Graham – graham@duome.co
---
London, 9th December 2020 – DuoMe, the flexible working platform, has secured a grant from Innovate UK's Sustainable Innovation Fund to develop a SaaS (Software as a Solution) based flexible teams collaborative scheduling solution for hybrid teams. As a blend of office and remote working becomes the norm, maximising the use of space and the productivity of teams depending upon location will be critical.
DuoMe will enable businesses to optimise who is in the office, promoting different groups of people to be present to enhance networking and co-created culture. For employees, Flexibly will help them better plan the type of work they will do depending on their location, either in the office or remote.
At its core, DuoMe is an innovative location-aware team scheduling and collaboration system enabling distributed teams to have greater flexibility over their work schedules, to better manage where they plan to work and to optimise when and with whom time is spent in the office.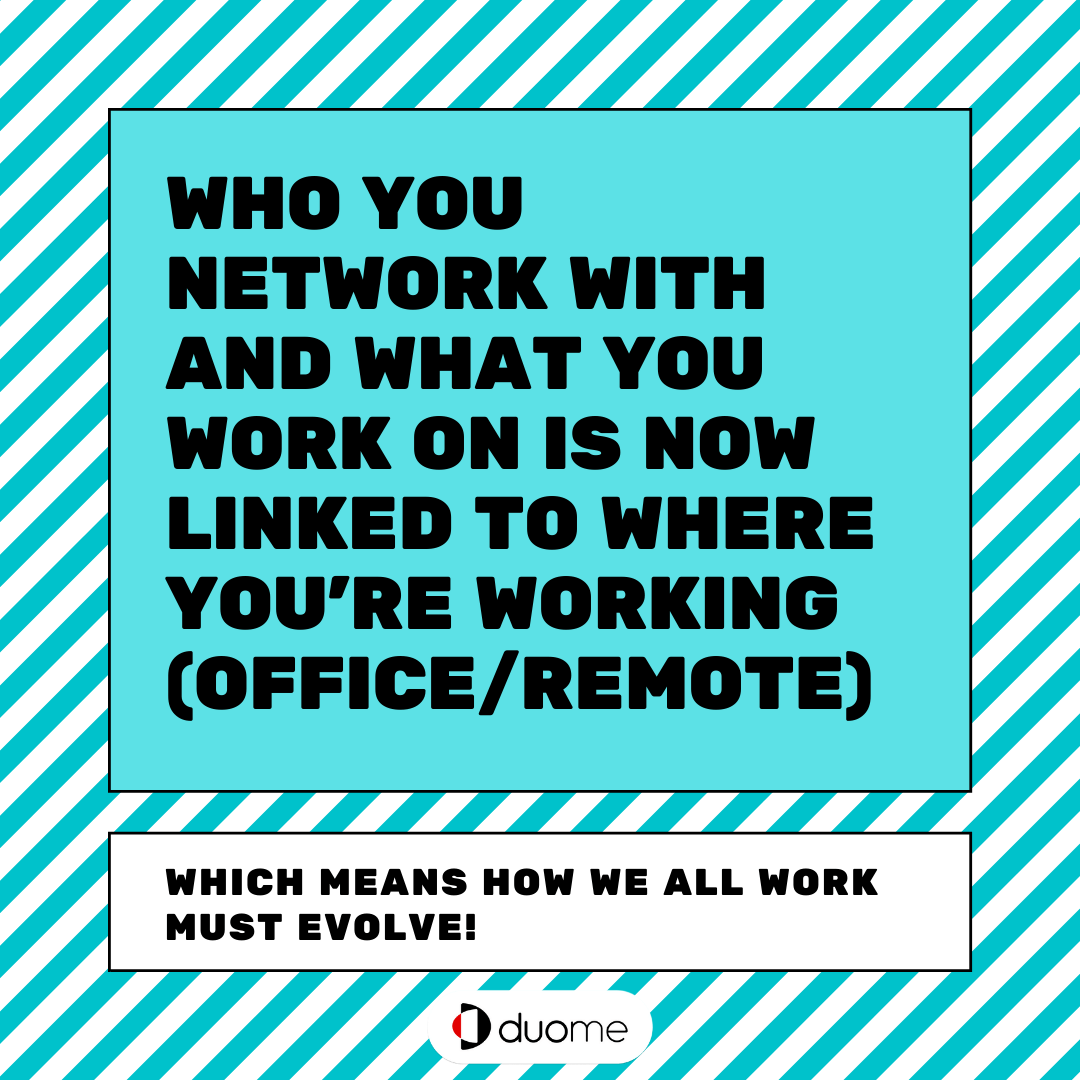 Graham Joyce, Co-Founder, DuoMe, said, "Fixed schedules lead to static groupings of the same people in the same office at the same time. A company's culture is the mix of all its people, not just those in the office on Mondays. Catering for flexible working practices will not only maximise staff interactions remotely and physically but create a more equal playing field for a diverse workforce. We can't sleepwalk into a situation where employees who are less present in the office or work on different days to other key stakeholders, miss out on opportunities. It will lead to the people who are remote most often or on fixed days getting promoted less or being overlooked."
DuoMe currently offers a SaaS flexible working tool to help employees find a job share partner to split their role. DuoMe for hybrid teams is a complementary offering focused on the following capabilities:
Intuitively assisting employees to plan the most effective days to be in the office, whether that's to spend time with the team, focus on critical activities, be around senior leaders, or even people in a similar role
Enabling teams to manage and communicate what they are working on in a format that supports flexible hours, i.e. not everyone live on a call at the same time
Supporting managers to coordinate how to engage with their distributed team and centralise information for crucial team processes
Assisting companies in creating the ingredient to promote the culture of its full workforce and maximise their investment in office space
"Until the pandemic, while the way offices look has changed, the work we do there has largely escaped material disruption. When people return to the office, it will be for less time than before. Choosing when to be in the office and what type of work to do there will be critical. Businesses need to ensure they remain competitive by supporting a distributed work style that enables employees to work productively and fairly. The companies that recognise what people work on is strongly linked with where, and when, they do it will have an advantage in attracting the best, most diverse talent.
"It will remain essential to meet face to face, but not every day, nor even in the same office. Complementary to our job sharing platform, DuoMe will be the first business solution to optimise people's time based on where they are working while suggesting work patterns that offer the most impactful times to meet in the office.
"We are very pleased to have received government support through the Sustainable Innovation Fund to develop this new intuitive flexible working solution for distributed teams. To ensure maximum functionality, usability and quality, we are actively seeking potential business partners to participate in beta testing," said Graham Joyce.
Innovate UK Executive Chair Dr Ian Campbell said, "In these difficult times we have seen the best of British business innovation. The pandemic is not just a health emergency but one that impacts society and the economy. DuoMe's flexible working platform, along with every initiative Innovate UK has supported through the Sustainable Innovation fund, is an important step forward in driving sustainable economic development. Each one is also helping to realise the ambitions of hard-working people."
~
Graham Joyce
Co-Founder, DuoMe
Tel: 07950 101 659
Email: graham@duome.co
Twitter: @duomeco
Founded in 2018, DuoMe's mission is to expand the availability of flexible working for all. DuoMe is a flexible working platform that companies offer to their employees, enabling them to take advantage of flexible working opportunities, while also securely connecting to others looking to Job Share or split their current role. With the advent of Covid, location-based flexibility went mainstream with nearly 50% of the UK workforce remote at its peak in 2020. Companies must adapt to more flexible work styles, and DuoMe is uniquely positioned to help companies do that.
Innovate UK
Innovate UK is part of UK Research and Innovation (UKRI), the national funding agency investing in science and research in the UK. Innovate UK is investing up to £191 million to fund single and collaborative research and development projects as part of the Sustainable Innovation Fund over the next two years. The aim of these competitions is to help all sectors of the UK rebuild after the effects of COVID-19.